Trump Surrogate: Actually, Clinton's the One Who's Planting Doubt About Election Validity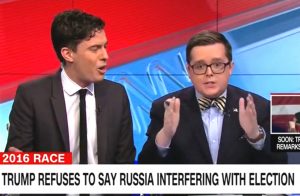 Harlan Hill, onetime Bernie supporter and present Trump surrogate, had a hard time of it on a CNN panel Thursday morning, blowing his top as he disputed the veracity of U.S. intelligence and poll data while positing a few conspiracy theories of his own.
First he suggested that the polling, which currently shows Trump lagging behind Clinton nationally and in virtually every swing state, was inaccurate. Like Trump, he cited Brexit as an example of polling being proved wrong by the final vote. (Hill and Trump are wrong, incidentally: While pundits insisted "Remain" would triumph, the polls showed that "Leave" had a slight edge in a very tight race.)
Hill said that Trump has "condemned Putin in the past," ignoring or neglecting the fact that Trump has repeatedly spoken admiringly of the Russian president, and even said at the debate that he wanted a good relationship with the Kremlin.
Hill said that he did not believe the several intelligence reports blaming the Russian government for the hacks into the emails of the DNC and Clinton campaign chair John Podesta. Trump has likewise dismissed the notion that Russia is responsible for the hacks. (He one suggested a 400-lb man sitting in his bedroom might have been the culprit.)
"Harlan can live in an alternative universe. Where I want to live is with what Donald Trump actually said last night," said Tim Miller, former Jeb Bush campaign communications director and co-founder of an anti-Trump Republican PAC.
When Miller noted that the Democrats were the targets of an illegal invasion of privacy, that's when Hill exploded. "This has happened to Donald Trump as well! How about with his tax returns?" he said, referring to Trump's 1995 tax returns, which were leaked to the New York Times. "It's the exact same thing!"
Hill went on to accuse Clinton of "planting the seeds of doubt in the event that she were to lose or that it's a competitive race and she were to contest the validity of the election."
It's a curious claim from a Trump supporter, given that Hill's candidate is the one who has been "planting the seeds of doubt" by alleging widespread voter fraud, and has refused to affirm that he will accept the results of the election should he lose.
"There have been whispers about it for quite some time," Hill insisted.
—
[image via screengrab]
Sam Reisman (@thericeman) is a staff editor at Mediaite.
Have a tip we should know? tips@mediaite.com