Trump Tells Police Group: Every Single Cop-Killer Gets Death Penalty If I Win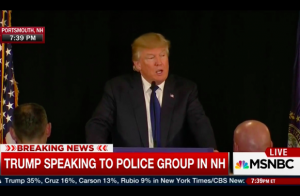 GOP frontrunner Donald Trump spoke today to a gathering of police and law enforcement in Milford, New Hampshire for an event hosted by the New England Police Benevolence Association. The real estate mogul told a room of gathered law enforcement officials that all police murderers would receive the death penalty under a Trump administration.
"They've had a hard time," Trump told the room of law enforcement officials. "Police forces throughout the country have had a hard time, a lot of people killed."
At the conclusion of his remarks, he turned his attention to the death penalty and it's role to bring justice to those who murder men and women in uniform:
One of the first things I'd do in terms of executive order if I win would be to sign a strong, strong statement that will go out to the country, out to the world, that anybody caught killing a policeman, policewoman, police officer — anybody killing a police officer: death penalty. It's gonna happen. OK? We can't let this go.
Trump's response resulted in a wild applause from the gathered crowd. Earlier this year, Donald Trump told Fox and Friends that he thought the death penalty was appropriate after two police offers were killed on-duty in Hattiesburg, Mississippi in May.
The New York native also famously made a public call for the death penalty during the media aftermath of the Central Park Five case in Manhattan in 1989. Although it was eventually proven that the then-young men were wrongfully convicted, Trump took out four full-page advertisements in the The New York Times, The Daily News, The New York Post and New York Newsday calling for the suspects to face the death penalty.
Trump, whose lead in the Republican polls has only increased since his controversial comments on Monday proposing a ban on all Muslims entering the country, addressed the need for constant vigilance as part of a safe state earlier in the evening.
Watch the above video from MSNBC.
[image via screengrab]
Have a tip we should know? tips@mediaite.com