Trump to Meet With Rosenstein, FBI Director Wray at WH to Reportedly 'Demand' DOJ Informant Probe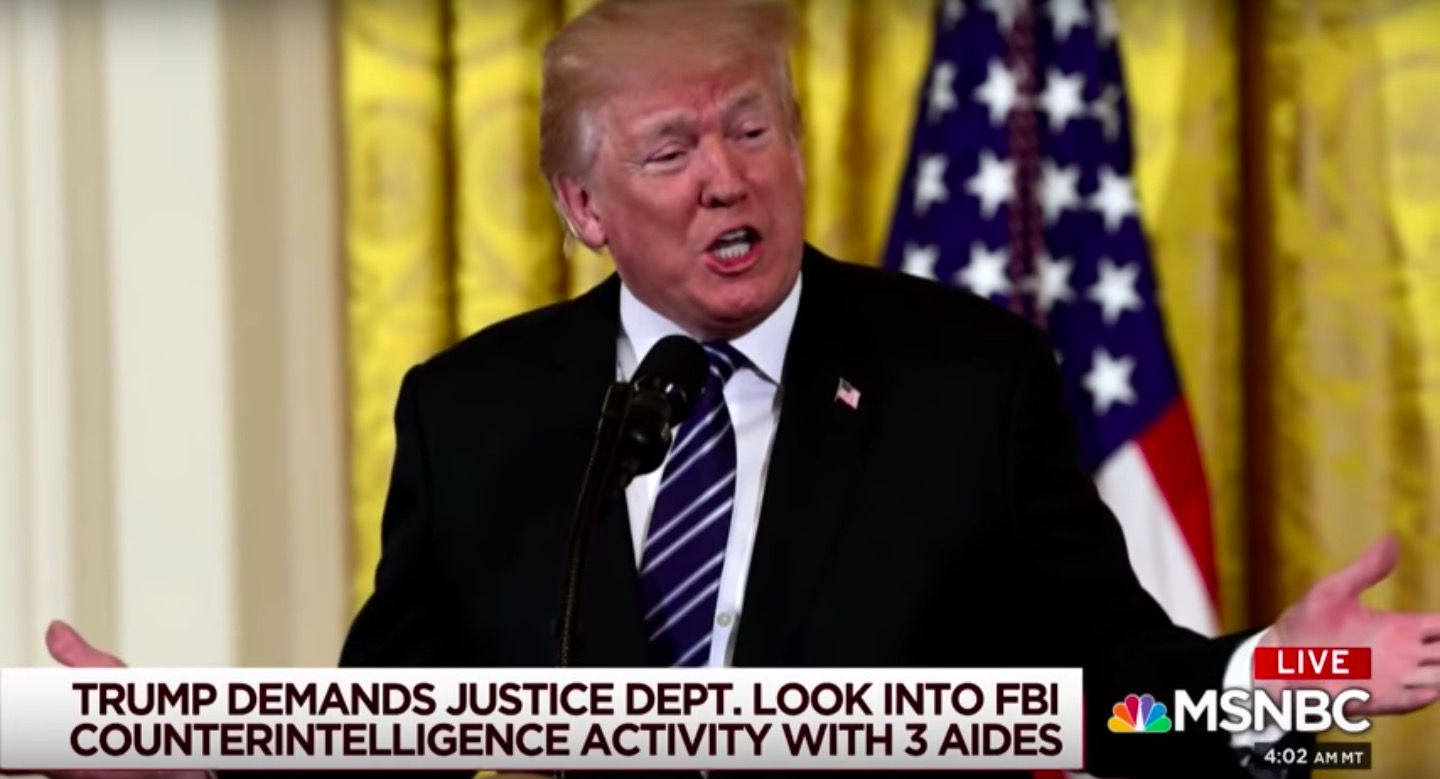 President Donald Trump will be meeting with Deputy Attorney General Rod Rosenstein and FBI Director Christopher Wray, as first Tweeted by ABC News' Jonathan Karl, and confirmed by the White House.
ABC News has learned President Trump will meet today at the White House with Deputy Attorney General Rod Rosenstein and FBI Director Christopher Wray. The meeting is scheduled for 3pm. I'm told this "demand" will be a topic of discussion … https://t.co/vd7uHo5ctf

— Jonathan Karl (@jonkarl) May 21, 2018
White House Press Secretary Sarah Huckabee Sanders told NBC News that Director of National Intelligence Dan Coats would also be in attendance. She said that the the discussion would be on the Justice Department's response to "numerous congressional requests."
JUST IN: President Trump will meet with Deputy AG Rosenstein, Director of National Intelligence Coates and FBI Director Wray at the White House at 3 p.m. ET to discuss their response to numerous congressional requests, Sarah Sanders tells NBC News – @kwelkernbc

— NBC Politics (@NBCPolitics) May 21, 2018
This meeting comes after Trump heard word that there may have been an FBI informant stationed in his 2016 presidential campaign, a revelation that the president said was, if true, "bigger than Watergate."
On Sunday, the president tweeted that he "hereby demand[s]… that the Department of Justice look into whether or not the FBI/DOJ infiltrated or surveilled the Trump Campaign for Political Purposes – and if any such demands or requests were made by people within the Obama Administration," a request that was met with harsh criticism. Karl reports that this will be a topic of conversation during the meeting.
[image via screengrab]
Have a tip we should know? tips@mediaite.com