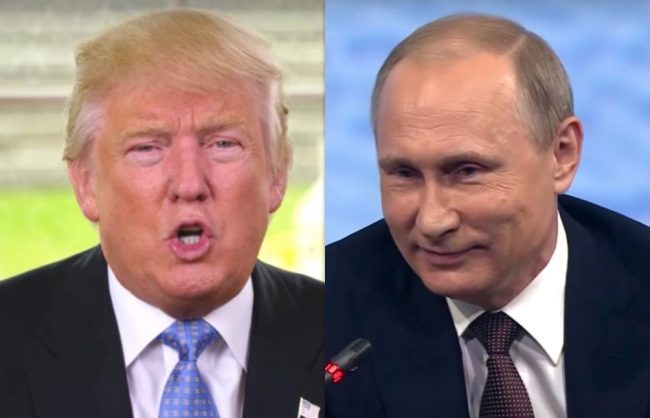 We may never know exactly what was said during the highly anticipated meeting between Donald Trump and Vladimir Putin during the G20 in Hamburg. Both sides have reported conflicting accounts of the talks and have roughly the same level of public credibility.
The most hot button issue during their two hour discussion was the matter of Russian election meddling during the 2016 election — a fact that is not in dispute among the U.S. intelligence community.
Reporting from The New York Times' Glenn Thrush suggests that Trump had no intention of beating around the bush or standing on any ceremony about it. According to Thrush, the 45th President bluntly asked Putin straight up at the start of their meeting.
"I'm going to get this out of the way: Did you do this?" asked Trump.
Putin's response — you guessed it — was no. The exchange itself was a matter of hot dispute for the two sides.
Per NYT:
Secretary of State Rex W. Tillerson, the only high-level American official allowed in the room with the president, had urged his boss to hit Mr. Putin hard on the issue — but told an associate he was still stunned that Mr. Trump would begin the meeting, unceremoniously, by saying to the Russian leader, "I'm going to get this out of the way: Did you do this?"

Mr. Tillerson's Russian counterpart, Foreign Minister Sergey V. Lavrov, later told reporters that Mr. Trump hadn't been nearly that confrontational on the question of Russian meddling. "U.S. President Trump said that he heard firm assertions from Russian President Putin that it is not true and that Russian authorities have not meddled in the elections," Mr. Lavrov told journalists at the summit.

Mr. Trump "said that he accepts these assertions — that's it," the foreign minister said. He said Mr. Trump had complained about opponents who sought to "exaggerate" the level of Moscow's involvement.
Whatever the truth, the meeting is unlikely to change the opinions of U.S. intelligence officials who consider Putin's involvement in U.S. election hacking beyond dispute. Any tough talk from Trump will also likely do nothing to slow the march of Senate and House investigations into the matter as well the investigation of Special Counsel Robert Mueller.
[image via screengrab]
Have a tip we should know? tips@mediaite.com