Trump's Reported Demand To Ride In Queen's Horse-Drawn Carriage Has Upset Some Brits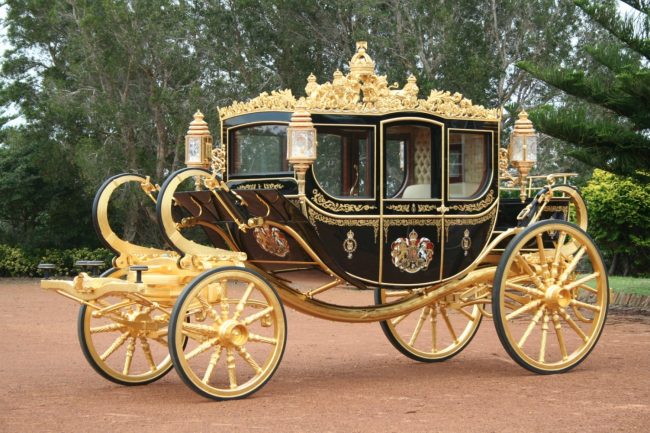 A new report suggests that President Donald Trump really wants to ride in Queen Elizabeth II's royal carriage in a few months, and the British aren't happy about the idea.
An article from The Times of London says that Trump has put in a request to ride with Her Highness in her gold-plated carriage when he makes his first state visit to the United Kingdom in the fall. Trump is known to prefer extravagance and showmanship at his events, and according to the report, the White House views a carriage procession as an "essential element of the itinerary" when he visits Buckingham Palace.
World leaders riding in the queen's carriage isn't terribly unusual, seeing as the buggy was previously featured in state visits for Russian President Vladimir Putin and Chinese President Xi Jinping. The carriage is equipped with bulletproof glass and other emergency features, though it is hardly as secure as the fortified car Barack Obama elected to use in his state visits.
Between this and expectations of major anti-Trump protests, a source told the Times that they are concerned the state visit will be a security nightmare.
"The vehicle which carries the president of the United States is a spectacular vehicle. It is designed to withstand a massive attack like a low-level rocket grenade. If he's in that vehicle he is incredibly well protected and on top of that it can travel at enormous speed. If he is in a golden coach being dragged up the Mall by a couple of horses, the risk factor is dramatically increased."
Trump is not particularly popular in the UK, seeing as there were several popular petitions to ban him from Great Britain, and to deny him a ceremonial state visit once he was elected.
[Image via Wikimedia]
— —
>> Follow Ken Meyer (@KenMeyer91) on Twitter
Have a tip we should know? tips@mediaite.com