Twitter Explodes After Kurt Eichenwald Allegedly Tweets Photo That Shows His Interest in Anime Porn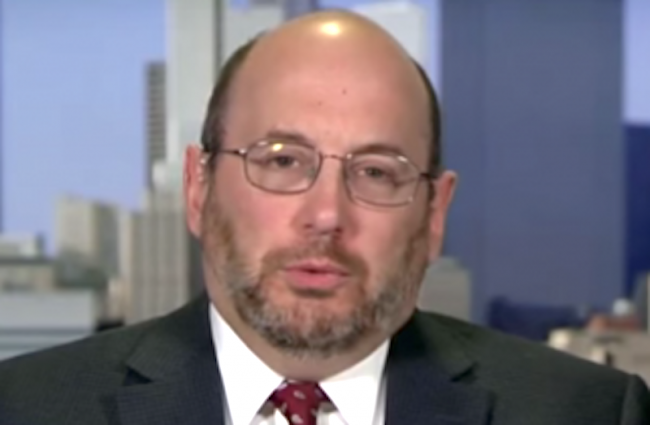 Back in December, Tucker Carlson and Newsweek's Kurt Eichenwald had one of the most epic on-air battles in recent memory. And apparently Eichenwald is still bitter about it.
After Carlson name-dropped Eichenwald in a negative matter on his show on Tuesday night, Eichenwald responded on Wednesday with an hours-long tweetstorm targeting the Fox News host.
He began in the afternoon by attacking Tucker Carlson's ratings, tweeting "Apparently, @TuckerCarlson brought me up on his show last night. I wouldn't know. Like most ppl now, I don't watch it." with a link to a CNN article that shows Carlson losing his ratings battle to MSNBC's Rachel Maddow.  He then tweeted a picture of an anti-Semitic flyer (even though he isn't Jewish) he personally received and blamed Tucker Carlson for it. "Since being on your show," he tweeted directly to Carlson, "I get things like this a lot, most always from ppl mentioning u. Ur the Julius Streicher of Fox."
If you don't know who Julius Streicher is, he was the founder of the anti-Semetic newspaper Der Stürmer that began publishing before WWII.
During this one-sided Twitter war, Eichenwald last night tweeted this picture of him holding up that anti-Semitic flyer to prove its authenticity while defending someone else who received the same thing.
Yah, crappy photoshop Max. Unfortunately, no, this is what I got today. pic.twitter.com/jmi1U4wLUd

— Kurt Eichenwald (@kurteichenwald) June 8, 2017

However, Twitter noticed immediately that one of the open tabs in his web browser captured in the photo read "B-Chiku," which is apparently hentai, a highly sexualized sub-genre of anime. This caused Eichenwald to become one of Twitter's most trending topics.
Kurt Eichenwald jerking off to hentai is the greatest thing today.

— Ian Miles Cheong (@stillgray) June 8, 2017
Oh, you're a Kurt Eichenwald fan?

Name three of his favorite hentai.

.@TheSwogBlog pic.twitter.com/HqeyfgyV3u

— Not Vic ?? (@red_destin) June 8, 2017
CODE RED: Eichenwald just shared his hentai tab pic.twitter.com/KbpJ5I5L0T

— WORLD IS A FUCK (@RIPMarkusJ) June 8, 2017
I had to verify this on his timeline it's fucking real

B-Chiku is a hardcore hentaihttps://t.co/LjnfiMyIwT pic.twitter.com/7aiIF6I59Y

— CRISPR-YM3812 (@Crisprtek) June 8, 2017
I love Twitter. Where else can I see a Vanity Fair writer/MSNBC contributor accidentally take a picture of the hentai tab on their computer? pic.twitter.com/mAdJEv4lR6

— Scott (@KillScottKill) June 8, 2017
Life came at Kurt Eichenwald at light speed. pic.twitter.com/qLtAEMaM5Q

— Ashton Liu (@Ash_Effect) June 8, 2017
tfw pic.twitter.com/b0YqvjalPe

— The Akkountant (@AccountingAkko) June 8, 2017
Have a tip we should know? tips@mediaite.com