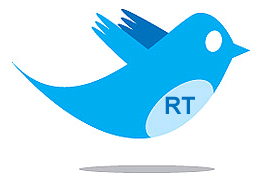 Twitter has started rolling out a new feature they're referring to as Project Retweet, inspired directly by users of the site. Co-founder Biz Stone made the announcement Friday evening, noting that the add-on would begin by appearing on a few accounts as a trial run and considering everything goes according to plan, would be available to everyone in time.
Retweeting is familiar to members of the micro-blogging platform as a crucial piece of the service's usefulness, in which followers pass on tweets, allowing wisdom and links alike to grow virally. But it's important to remember that Twitter never imagined the force RT-ing would become; the feature was user-created and spread organically.
Now, it's an example of a company embracing its user base, acknowledging their innovations or optimization and making steps to integrate the feature. It's a truly commendable and savvy understanding of the way things move and grow online.
Here's Stone's full message about the gradual roll out:
We've just activated a feature called retweet on a very small percentage of accounts in order to see how it works in the wild. Retweet is a button that makes forwarding a particularly interesting tweet to all your followers very easy. In turn, we hope interesting, newsworthy, or even just plain funny information will spread quickly through the network making its way efficiently to the people who want or need to know.

You may remember that we shared the mechanics of this feature with developers a while back so they could think about how to work it into Twitter apps. Now we're ready to start trying it on Twitter. The plan is to see how it goes first with this small release. If it needs more work, then we'll know right away. If things look good, we'll proceed with releasing the feature in stages eventually arriving at 100%.
(h/t WebNewser)
Have a tip we should know? tips@mediaite.com