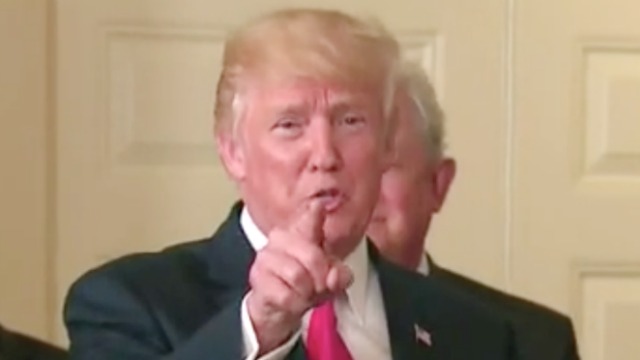 The president was tweeting Tuesday morning.
And even for Donald Trump, the latest dump was completely off-the-rails, and sure to have made newly-anointed Chief of Staff John Kelly spit out coffee all over his morning WSJ.
Things really kicked off Monday night, when Trump retweeted Jack Posobiec — one of the Pizzagate conspiracists who once brought a "Rape Melania" sign to an anti-Trump rally in an attempt to smear the protestors.
Then on Tuesday morning, Trump retweeted a Fox & Friends story reporting that he is considering pardoning Sheriff Joe Arpaio, one of his staunchest supporters — and a champion of the Obama birther conspiracy — who was found guilty of contempt of court earlier this year.
Trump then retweeted a number of tweets in defense of Arpaio, including one that called either Trump or the Sheriff "a fascist." Trump deleted the tweet, but that's not how the internet works, because screenshots:

And it all culminated with the president retweeting a meme of a "Trump Train" plowing through a man with a CNN head trying to hold the train back. Given recent events in Charlottesville — in which a white supremacist drove his car into a crowd of people, killing one and injuring 19 — many took a touch of offense to the President of the United States retweeting such a meme. Trump again deleted the tweet, but that's still not how the internet works, because screenshots: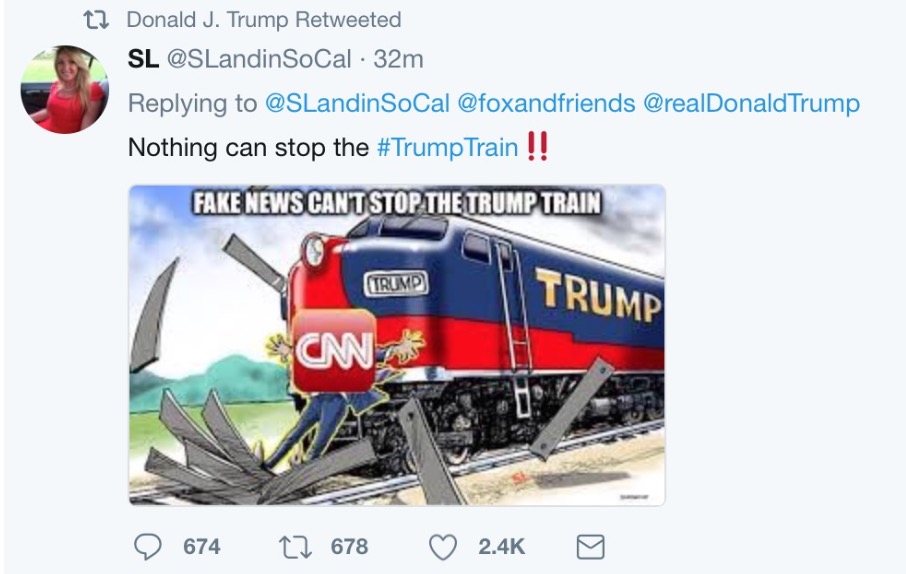 And as usual, Trump's Twitter habits sent the platform into a large-scale, collective meltdown. See a roundup below.
President – who has called reporters "enemies of the people" – retweeted a cartoon of one being hit by a train (he later deleted it)

— West Wing Reports (@WestWingReport) August 15, 2017
"Sir, this week we should project a sense of national unity."
"Hold on. First I need to retweet Posobiec plus CNN getting hit by a train."

— Allahpundit (@allahpundit) August 15, 2017
He's in deep poll trouble and needs to whip up a feud with the media. That train's right on schedule. https://t.co/MFHSPusHdg

— James Poniewozik (@poniewozik) August 15, 2017
Mr. President, a woman was just murdered in a terrorist attack by car.

Perhaps this isn't the most appropriate image to retweet today. pic.twitter.com/Ttir6hFuil

— Mo Elleithee (@MoElleithee) August 15, 2017
I've asked the White House to explain what the fuck this is about. Can't wait to hear their excuse.

— Olivia Nuzzi (@Olivianuzzi) August 15, 2017
Trump just re-tweeted this image, of a CNN journalist being killed, run over by a train 3 days after a woman was killed, run over by a car. pic.twitter.com/TZ09OafrXF

— Brian Klaas (@brianklaas) August 15, 2017
Latest @POTUS tweets:

-Pizzagate conspiracy theorist
-Allusion to birtherism
-Cartoon of CNN hit by train
-Person calling him a fascist

— Kyle Cheney (@kyledcheney) August 15, 2017
Modern day presidential? https://t.co/OuisGYzSQs

— Brian Stelter (@brianstelter) August 15, 2017
The timeline of the woman Trump retweeted (meme of a train plowing into CNN) suggests she is an unabashed Unite the Right sympathizer.

— Blake Hounshell (@blakehounshell) August 15, 2017
These tweets/retweets are all happening under John Kelly.

— Kyle Griffin (@kylegriffin1) August 15, 2017
hot take: maybe the president shouldn't do memes

— Aidan McLaughlin (@aidnmclaughlin) August 15, 2017
our president has shown he does not share American values https://t.co/GS3n5mXwbu https://t.co/glRnUnYONo

— John Harwood (@JohnJHarwood) August 15, 2017
Today is going to be an insane day.

— Comfortably Smug (@ComfortablySmug) August 15, 2017
Have a tip we should know? tips@mediaite.com
Aidan McLaughlin - Editor in Chief