Twitter Ridicules Trump for 'Good News' Tweet About the Market: 'Stock Market Is Committing Treason'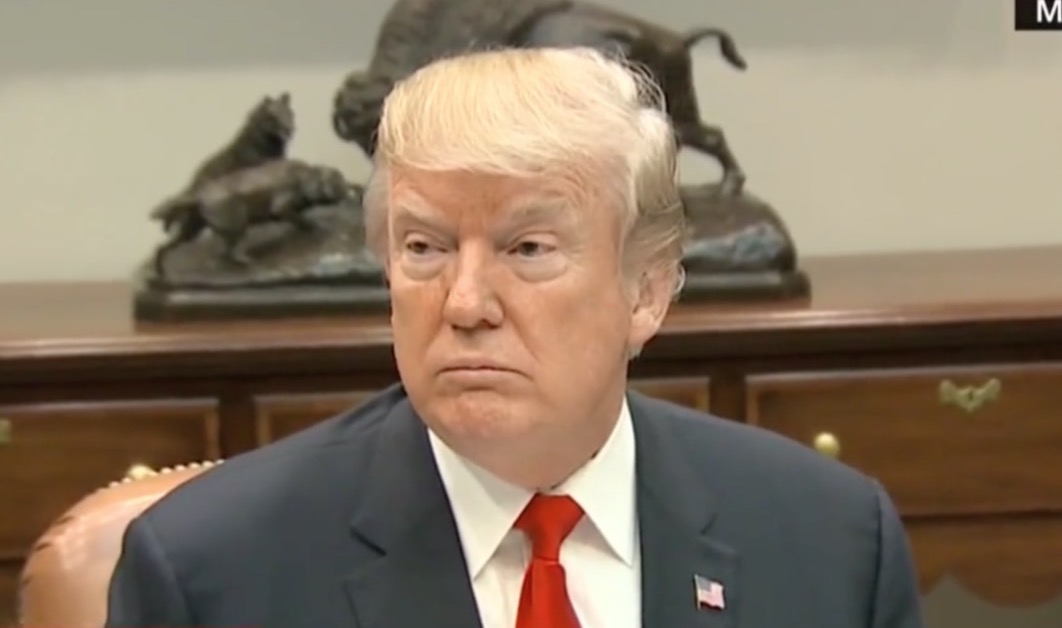 A lot of people on Twitter were not impressed with President Trump after he pretty much insisted that the recent major fluctuations in the stock market have nothing to do with him.
A short time ago, Trump issued his first public statements on the stock market since the big point drop Monday.
In the "old days," when good news was reported, the Stock Market would go up. Today, when good news is reported, the Stock Market goes down. Big mistake, and we have so much good (great) news about the economy!

— Donald J. Trump (@realDonaldTrump) February 7, 2018
Several observers and analysts have noted that the recent developments indicate that the market might be in the process of stabilizing. Trump has frequently used the stock market as an indicator of his success as president, though several commentators have suggested that he should stop doing that since it's not the most precise measure of the economy's strength.
As it were, Trump appears to be saying that "good news" caused the market's recent nosedives, and people are responding with ridicule and bewilderment.
It's not me, it's the stock market that is wrong https://t.co/GBveQDg678

— Josh Barro (@jbarro) February 7, 2018
President scolds entire stock market: You made a boo-boo. https://t.co/63pOrCpGfa

— Jeff Jarvis (@jeffjarvis) February 7, 2018
Perhaps someone with long experience in looking at the stock market might care to weigh in on this "analysis"… https://t.co/K8jJsoIVTG

— Jeff Greenfield (@greenfield64) February 7, 2018
the parade is going to be for the stock market https://t.co/2O0sHIzGD5

— Sopan Deb (@SopanDeb) February 7, 2018
Trump, last week: Good economic news is powering a big market surge!
Trump, this week: Good economic news is powering a market decline!https://t.co/oNcpBL0bTn

— Philip Bump (@pbump) February 7, 2018
We're a Fox and Friends segment away from the president giving the stock market a nickname. https://t.co/5KjmpRrrmw

— andrew kaczynski? (@KFILE) February 7, 2018
The "business man" president doesn't understand basic economic concepts like over-valuing, inflation, or course correction. Also he thinks the stock market makes decisions.

— Marina J. Lostetter (@MarinaLostetter) February 7, 2018
The entire economics profession just committed seppuku. https://t.co/1aKDLu8aTC

— Dan McLaughlin (@baseballcrank) February 7, 2018
<Calls hedge fund friend>
<pitches my Trump tweet-driven fund idea, this time with a bearish algo> https://t.co/EKopVDaDU1

— Rick Wilson (@TheRickWilson) February 7, 2018
Confusing Trump tweet. Best explanation is that he's implying a conspiracy to keep the market down, which is actually a popular theory in right-wing media this week! https://t.co/gYdGd6VIS9

— Will Sommer (@willsommer) February 7, 2018
the stock market is committing treason https://t.co/auf7JWc0OO

— Dave Itzkoff (@ditzkoff) February 7, 2018
[Image via screengrab]
— —
>> Follow Ken Meyer (@KenMeyer91) on Twitter
Have a tip we should know? tips@mediaite.com