Twitter Stunned By Trump Demanding Investigation Into FBI 'Spying' on Campaign: He's 'Finally Crossed The Red Line'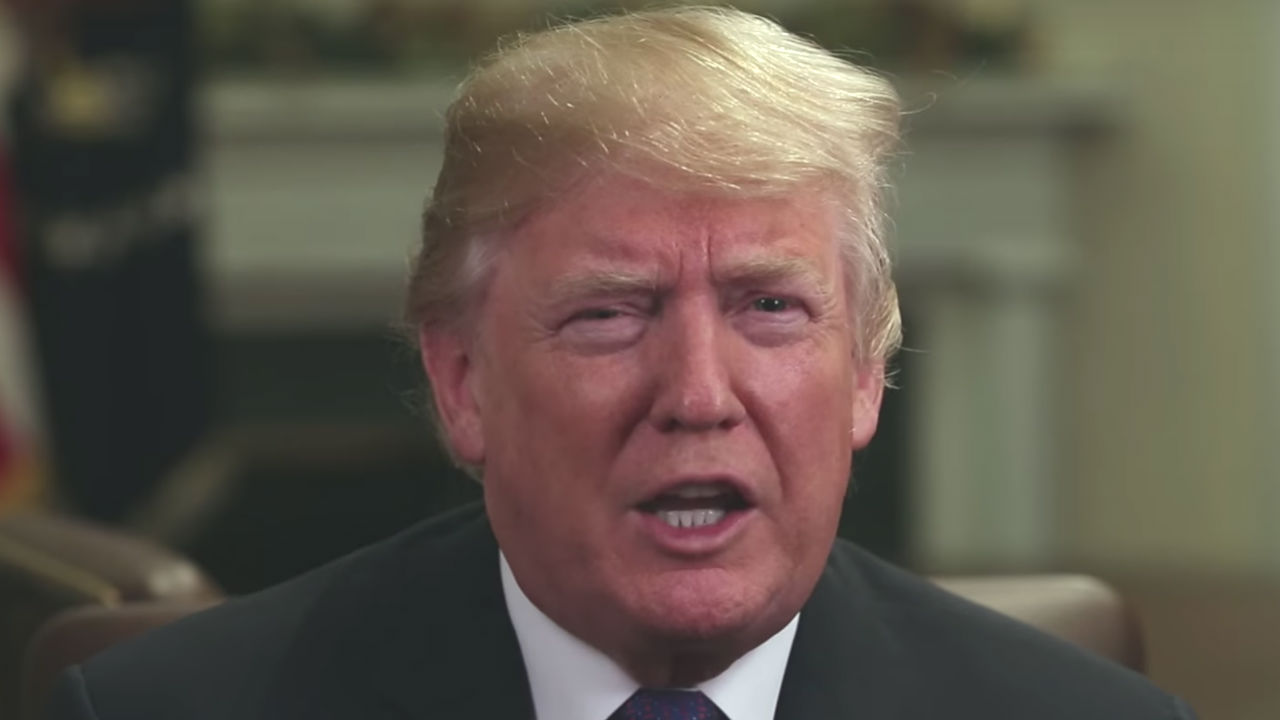 Clinging to an unsubstantiated claim that spies infiltrated his 2016 campaign, President Donald Trump tweeted out a demand that the Department of Justice get to the bottom of the matter.
I hereby demand, and will do so officially tomorrow, that the Department of Justice look into whether or not the FBI/DOJ infiltrated or surveilled the Trump Campaign for Political Purposes – and if any such demands or requests were made by people within the Obama Administration!

— Donald J. Trump (@realDonaldTrump) May 20, 2018
The remark comes just after Trump said Friday that an "FBI representative" acted as a mole within his campaign, asserting that it happened "long before" Russian influence in the election made headlines.
Amplifying the spying allegations once again, Trump used the tweet on Sunday to single out the staff of the Obama administration as potential perpetrators.
Meanwhile reporters and political commentators on Twitter were stunned by the announcement, some even poking fun at the demand.
Trump continues his attempts to interfere with and politicize the DOJ. pic.twitter.com/YJYweBsOP5

— Kyle Griffin (@kylegriffin1) May 20, 2018
There it is. He has finally crossed the red line and ordered up a DOJ investigation of his political opponents, as well as career law enforcement agents. Moment of truth for Rosenstein and Sessions and moment of danger for the country. https://t.co/LE8P0AmNDq

— Matthew Miller (@matthewamiller) May 20, 2018
I look forward to this inquiry. It will show the professional agents of the @FBI engaged in a counterintelligence operation. Which means @realDonaldTrump associates & perhaps @POTUS himself should be very, very scared of what the @TheJusticeDept knows about what happened in 2016. https://t.co/W7LXprqo5W

— Ted Lieu (@tedlieu) May 20, 2018
You know he's serious because he wrote "hereby." https://t.co/8wBleQEbWd

— Jeet Heer (@HeerJeet) May 20, 2018
Trump's latest allegation is just as unhinged as his previous but more dangerous in its implications. The President is officially knocking down the firewall between policy and law enforcement–an indispensable element of the rule of law. And for his own personal ends, too. https://t.co/zsQPiicFA7

— Ned Price (@nedprice) May 20, 2018
This is the president doing what he has threatened repeatedly: To use his power to intervene in an ongoing Justice Department probe, and demand that his own DOJ investigate his political opponents. https://t.co/4UWokUKTcA

— Julie Davis (@juliehdavis) May 20, 2018
A presidential order to investigate the FBI's secret source, which forces a showdown with DOJ. If DOJ does not comply order, things could get very, very messy. https://t.co/hVtdnkV8sv

— Philip Rucker (@PhilipRucker) May 20, 2018
I hereby demand that you shut the fuck up and allow people, for once, to enjoy their Sunday. https://t.co/4ZYsNxsDNc

— Kathy Griffin (@kathygriffin) May 20, 2018
IT'S LIT https://t.co/ay8wbQYtH7

— Comfortably Smug (@ComfortablySmug) May 20, 2018
Last month Trump said, "I have decided that I won't be involved. I may change my mind at some point, because what's going on is a disgrace." I guess we've reached that point? https://t.co/0aZFvB2wmG

— Chris Megerian (@ChrisMegerian) May 20, 2018
In this administration, will we ever get a quiet, peaceful Sunday? https://t.co/y8YCvMt0iP

— Laura Vigilante (@lauravigilante) May 20, 2018
This sounds like a Michael Scott quote at the beginning https://t.co/u6EOc8dlhN

— Joe Perticone (@JoePerticone) May 20, 2018
While Trump continues to spread the campaign spying stories, presidential attorney Rudy Giuliani already threw a bit of cold water on the claims recently, admitting that neither he nor Trump knew with certainty if anyone had infiltrated the campaign at all.
[Image via screengrab]
Follow Amy Russo on Twitter: @amymrusso
Have a tip we should know? tips@mediaite.com