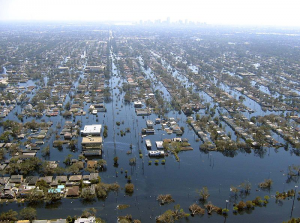 What would the coverage of Hurricane Katrina have been like in the age of Twitter? The question has been raised, as it often is when contemplating massive national events in the past – back in late August and early September 2005, we watched that story unfold, unbelievingly, on our TV screens and news reports and via the then-lighting-fast-seeming world of blogs, as the Times-Picayune brought their operation online from wherever they could get online.
But that was before Twitter — which we now know to be an instantaneous newsfeed that has upped the speed of the news cycle to warp speed and made it impossible to claim ignorance about what's going in any given place with even the most spotty AT&T reception. What would the coverage – the information flow – of Katrina have been like in the age of Twitter? Dear New Orleans, a digital benefit album to the city for the 5th anniversary, featuring artists like OKGo, My Morning Jacket, Nellie McKay, Steve Earle and R.E.M.'s Mike Mills, is live-twittering Katrina…5 years later. "Aug 27, 2005: 5AM: Katrina upgraded to Category 3 Hurricane" "Aug 28, 2005: 9:30AM Mayor Nagin issues first ever mandatory evacuation of New Orleans." "Aug 29, 2005: 7AM Katrina makes landfall as a Cat. 4 Hurricane" — seeing the events of that horrific time unfold in 140-character increments is sobering indeed — especially when we know what's to come.
Watching the coverage of Katrina we are of course reminded of the snails-pace slowness of the government's response. Who could have known at the time? was the response. Well, I am reminded of the NOAA weather advisory before Katrina hit — when it was just a wicked hurricane waiting to happen — before the levees broke. Take a look at that and wonder how on earth every single federal agency wasn't on emergency notice.
NOAA weather advisory, August 28, 2005:
EXTREMELY DANGEROUS HURRICANE KATRINA MOVING ACROSS SOUTHEAST
MISSISSIPPI
DEVASTATING DAMAGE CONTINUES ALONG ITS PATH
KATRINA…NOW A CATEGORY THREE HURRICANE WITH WINDS OF 125 MPH AND
HIGHER GUSTS…WILL CONTINUE TO MOVE NORTHWARD ACROSS SOUTHEAST
MISSISSIPPI AND INTO EAST CENTRAL MISSISSIPPI THROUGH THE AFTERNOON
AND EVENING HOURS. ALONG AND NEAR KATRINA'S PATH…EXPECT PARTIAL TO
COMPLETE WALL AND ROOF FAILURE. ALL WOOD FRAMED LOW RISING APARTMENT
BUILDINGS WILL BE DESTROYED. CONCRETE BLOCK LOW RISE APARTMENTS WILL
SUSTAIN MAJOR DAMAGE…INCLUDING SOME WALL AND ROOF FAILURE.
HIGH RISE OFFICE AND APARTMENT BUILDINGS WILL SWAY DANGEROUSLY…A
FEW POSSIBLY TO THE POINT OF TOTAL COLLAPSE. MANY WINDOWS WILL
BLOW OUT.
AIRBORNE DEBRIS WILL BE WIDESPREAD…AND MAY INCLUDE HEAVY ITEMS SUCH
AS HOUSEHOLD APPLIANCES AND EVEN LIGHT VEHICLES. SPORT UTILITY
VEHICLES AND LIGHT TRUCKS WILL BE MOVED. THE BLOWN DEBRIS WILL CREATE
ADDITIONAL DESTRUCTION. PERSONS…PETS…AND LIVESTOCK EXPOSED TO THE
WINDS WILL FACE CERTAIN DEATH IF STRUCK.
POWER OUTAGES WILL LAST FOR WEEKS…AS MOST POWER POLES WILL BE DOWN
AND TRANSFORMERS DESTROYED. WATER SHORTAGES WILL MAKE HUMAN SUFFERING
INCREDIBLE BY MODERN STANDARDS.
THE VAST MAJORITY OF NATIVE TREES WILL BE SNAPPED OR UPROOTED. ONLY
THE HEARTIEST WILL REMAIN STANDING…BUT BE TOTALLY DE-FOLIATED.
Have a tip we should know? tips@mediaite.com