U.S. Ambassador Appears to Jab at Trump on Twitter: 'Increasingly Difficult to Wake Up' to News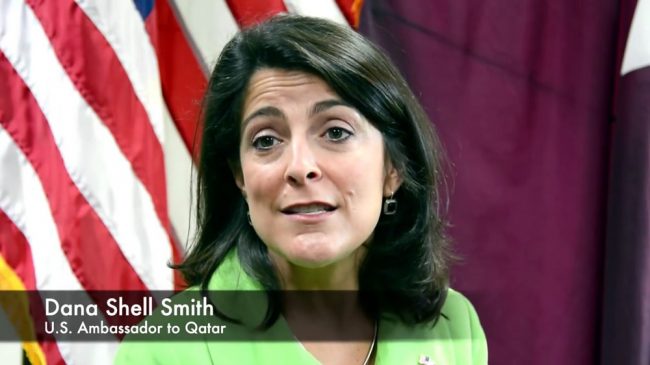 The U.S. ambassador to Qatar, Dana Shell Smith, revealed her apparent reaction to President Donald Trump's firing of FBI Director James Comey in a Tuesday post on Twitter:
Increasingly difficult to wake up overseas to news from home, knowing I will spend today explaining our democracy and institutions.

— Dana Shell Smith (@AmbDana) May 10, 2017
A day earlier, the American diplomat retweeted a tweet from MSNBC analyst Rick Stengel, who praised now former acting Attorney General Sally Yates:

Smith is a holdover from the Obama administration. She was nominated by the former President in May 2014, and confirmed by the Senate in July 2014 via a voice vote.
The ambassador's State Department biography notes that she is a "career member of the Senior Foreign Service," and that she previously "served as Principal Deputy Assistant Secretary of Public Affairs from 2011 to 2014 and as Deputy Assistant Secretary for International Media."
As you might expect, Smith's Twitter post led to many reactions both positive and negative:
@thehill More like: US Ambassador to Qatar openly exasperated at having the job every day of explaining, defending, representing US in utter chaos.

— Nick Walden Poublon (@NWPinPDX) May 11, 2017
Oh, we're so sorry to hear that you're embarrassed about America, ambassador. Feel free to resign & fly home. Does Southwest fly from Qatar? https://t.co/y7334ndEme

— Steve Cortes (@CortesSteve) May 11, 2017
Um, Rod Rosenstein is probably working on a memo to terminate Dana Shell Smith for "atrocities." https://t.co/2hecs4EX8p

— Hinterland Gazette (@hinterlandg) May 11, 2017
@AmbDana If you can't support America, resign

— Peter Van Buren (@WeMeantWell) May 11, 2017
[image via screengrab]
Have a tip we should know? tips@mediaite.com