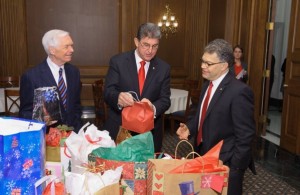 Say what you will about Sen. Al Franken's politics — and people tend to either love or hate the Democrat from Minnesota — but his idea for the Senate's first-ever Secret Santa gift exchange turned out to be a winner. Organized with the help of Sen. Mike Johanns (R-Neb.), the Secret Santa exchange attracted 39 Democrats and 22 Republicans, with the hopes of fostering some across-the-aisle goodwill and cheer. It seemed, at least momentarily, to work.
Reports coming out of the gift exchange showed a group of senators seemingly giddy over their gifts. The biggest hit seemed to be Sen. Chuck Schumer (D-N.Y.)'s receiving of an elephant and donkey carved from coal. The note attached, according to Ann Gerhart of The Washington Post, helped him deduce that it was from West Virginia's Sen. Joe Manchin:
"With an eight percent approval rating, both Democrats and Republicans in Congress deserve to have coal in their stocking this year. Lucky for us, my state has more than enough to go around"
The rules stated that gifts couldn't exceed more than $10, so senators had to get a little creative. Jared Hunt of the Charleston Daily Mail reported that Manchin actually received coal as his gift, from Sen. Mark Udall (D-Col.) — along with some hiking socks and a six-pack of "Snow Day" beer.
Libby Leist of NBC News has the most comprehensive rundown of gifts. Some of the highlights include:
-Sen. Rob Portman (R-Ohio)'s gift of beer to Sen. Michael Bennet (D-Col.). His explanation? "Since Colorado is the state that produces more beer than any other state, and they're pretty proud of that, I thought I would show him what really good beer was," Sen. Portman told Leist. "So I got him a six pack of Great Lakes Christmas Ale. A really fine beer made from Cuyahoga River water rather than Rocky Mountain spring water."
-Sen. Schumer's gift of Buffalo wing sauce — from Buffalo, N.Y.'s Anchor Bar, where buffalo wings were invented — to Sen. Johanns.
-Sen. Kay Bailey Hutchison (R-Tex.)'s gift to Sen. Kent Conrad (D-N.D.) of a Texas border patrol hat. Fox News' Trish Turner explains that Hutchinson had kind of owed it to Conrad. He had once told Hutchison that if she won her race for Texas governor, he'd take on the job as top cop of her Border Patrol. She eventually lost to Rick Perry, but, for his Secret Santa gift, she gave him a black and white hat emblazoned with his would-be employer: Texas Border Patrol. "Four gold stars adorned the brim," Turner writes. "A card attached read simply, 'Keeping my promise.'"
Below, enjoy a picture of Sen. Manchin's coal-carved gifts to Sen. Schumer (courtesy of the AP):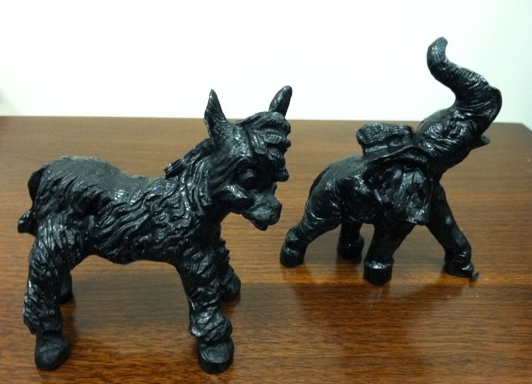 Have a tip we should know? tips@mediaite.com