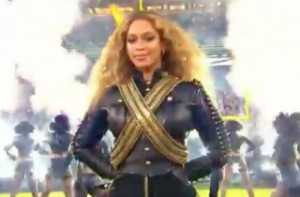 In the minutes, hours, and days following Super Bowl 50, there was no shortage of opinion about openly-black pop superstar Beyoncé Knowles' halftime performance, which some people found offensive for whatever reason. Now that you've heard from cable and internet pundits, former mayors, Tennessee sheriffs, and Hillary Clinton, you're probably wondering "Yeah, but what do people who still write letters to TV Guide think about all of this?"
Well, we've got the next best thing, thanks to SBNation's Freedom of Information Act request to the FCC for every complaint lodged with the agency about Bey's performance. Some choice cuts include this viewer who had a "complant" about the singer's "racist hand jesters":
Beyonce was making racist hand jesters during her performance during the super bowl half time show. Our group will be keeping track of this complant.
There were plenty more like that, and for good measure, there was this description of a non-Beyoncé complaint by a caller from New Jersey:
Consumer said that 2 of the ads during the super bowl were something that she wanted to report. Kick starter with mountain dew she thought was a disgusting commercial and she said it aired twice before 9 pm where kids could be watching this. She doesn't think that kids should be able to see. She said the commercial had a made up creature made up of 3 animals. The creature goes up to men and starts licking them which she said is very sexually suggestive and very odd. She thought Marmot apparel commercial as well was disturbing. She said that it also aired before 9 pm and kids could be watching this as well. She said the commercial featured a guy and he was doing activities with a wild creature and as the commercial goes on the animal looks up at the man and almost kisses him. Then says that she is not that kind of marmot.
You can read all 47 pages of complaints below, via SBNation:
Super Bowl 50 Complaints by Matt Brown
This is an opinion piece. The views expressed in this article are those of just the author.