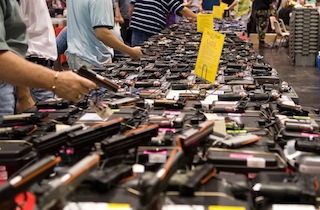 Calling the United States a "country where people are better armed and only slightly less nervy than rebel fighters in Syria," on Saturday, Observer columnist Henry Porter called for an international intervention into the U.S.'s gun epidemic.
"What if we no longer thought of this as just a problem for America and, instead, viewed it as an international humanitarian crisis—a quasi civil war, if you like, that calls for outside intervention?" Porter mused. "As citizens of the world, perhaps we should demand an end to the unimaginable suffering of victims and their families—the maiming and killing of children—just as America does in every new civil conflict around the globe."
"We should note that dealing with the risks of scalding and secondary smoke came well before addressing the problem of people who go armed to buy a latte," Porter said, in reference to Starbucks CEO Howard Schultz's statement last week that gun-toters can get their pumpkin-spice lattes elsewhere. "There can be no weirder order of priorities on this planet."
Porter crunched the numbers and found that more people have been killed by guns in the U.S. since Bobby Kennedy was shot than have perished in all of our wars combined. He also noted that when the United States does use regulation to affect safety rates, the results are beneficent, as illustrated by road safety measures like speed limits and crackdowns on drunk driving.
Porter even contrasted our significant devotion of resources to fighting terror to our inability to address gun violence.
"There have been fewer than 20 terror-related deaths on American soil since 9/11 and about 364,000 deaths caused by privately owned firearms," Porter wrote. "If any European nation had such a record and persisted in addressing only the first figure, while ignoring the second, you can bet your last pound that the State Department would be warning against travel to that country and no American would set foot in it without body armour [sic]."
[h/t Observer]
[Image via Wired]
——
>> Follow Evan McMurry (@evanmcmurry) on Twitter
Have a tip we should know? tips@mediaite.com