UK Newspaper Delivers Devastating Review Of Larry King's Last Show: "A Sad So Long"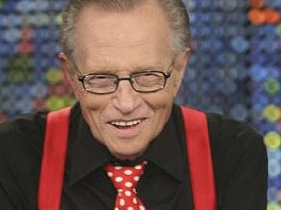 So much for hail to the King. In the U.K. paper The Telegraph, Rachel Ray (not that Rachel Ray, we're assuming) issued a blistering review of Larry King's final edition of Larry King Live on CNN Thursday night: "it was billed as a show of surprises but the low-key, sad sendoff…served more as a reminder of the grim reality of the network's increasing irrelevance as a trusted news source."
Ouch. And yet, well, yes. Clearly, the show's odd pace–with long silent pauses and a roster of "surprise" guests (Regis Philbin, Donald Trump) who weren't going to bring in any viewers under 50–made the hour a somber affair. But to Ray, it was downright funereal:

The finale's grave tone was set early on as guest co-host Bill Maher from Comedy Central announced "This is not a funeral". Statements from celebrities and tweets from viewers rolling across the bottom of the screen did little to lighten the mood. Joan Rivers noted "how sad" King's departure was and more than one tweeter noted "it won't be the same without you".
The finale's odd pace and clunky segments included a cringeworthy moment, noted in the Telegraph, where guest Regis Philbin attempted to perform a dated duet with King:
The most shocking moment occurred when he couldn't remember the lyrics of a favorite Frank Sinatra song in a sing along with an embarrassed Regis Philbin.
At touching sendoff from CNN's Anderson Cooper, who talked about the death of his own father at an early age, was nearly derailed by the inclusion of King's seemingly bored sons. And the Telegraph wasn't even impressed by the star-studden array of quick visitors sending Larry off with special messages:
News anchor Katie Couric read a long, juvenile rhyming poem about King's departure. A beaten-down looking Arnold Schwarzenegger, the unpopular outgoing governor of California, announced Larry King Day in California via satellite. And in a taped appearance, President Obama bearing a do-I-really-have-to-do-this countenance thanked King for his 25 years of television interviewing and wished him the best of luck.
Have a tip we should know? tips@mediaite.com