'Um, Yeah. Sure': Twitter Bewildered by Trump's Tweet Touting 'Great Day at the White House!'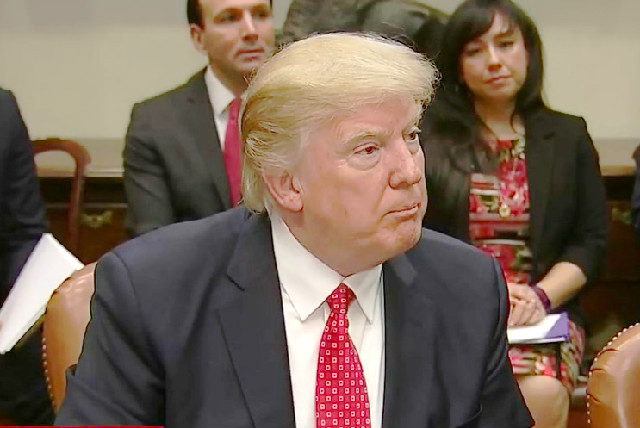 The Twitterverse is doing a collective double-take over President Trump's latest tweet about how everything in his administration is sunshine and rainbows.
A great day at the White House!

— Donald J. Trump (@realDonaldTrump) July 31, 2017
Sure, the president had some nice moments today. He officially welcomed DHS Secretary John Kelly to his new position of chief of staff, and he bestowed the Medal of Honor on a former army medic who served during the Vietnam War.
Still, in light of the chaos shown by Anthony Scaramucci's sudden ouster as communications director, the general consensus is that today was not really such a great day for the White House.
Some people viewed Trump's tweet as a final insult to Scaramucci, but others were just plainly bemused that Trump could really say what he said after everything that's happened:
has anyone been owned as hard as Anthony Scaramucci in human history https://t.co/ONDslI0DUp

— Matt Pearce (@mattdpearce) July 31, 2017
*spit take* https://t.co/2eR9CxbDph

— Jessica Plautz (@jessicaplautz) July 31, 2017
Well, for those who survived it, maybe. pic.twitter.com/lZYOHybg4e

— Keith Olbermann (@KeithOlbermann) July 31, 2017
U sure? https://t.co/vkav76HbnJ

— Asawin Suebsaeng (@swin24) July 31, 2017
He's just trolling us now. https://t.co/vdlVz0ZMkq

— Scott Bixby (@scottbix) July 31, 2017
Oh wow he's telling the genie what he wishes for https://t.co/39eM8YQX6t

— Josh Barro (@jbarro) July 31, 2017
Mooch still getting dunked on https://t.co/J04zuiBwT1

— Simon Maloy (@SimonMaloy) July 31, 2017
Um, yeah. Sure. https://t.co/z2tnMl54nT

— Ali Velshi (@AliVelshi) July 31, 2017
Must have gotten three scoops of ice cream at lunch.https://t.co/15wMLcSTZt

— Full Frontal (@FullFrontalSamB) July 31, 2017
Finger on the pulse! https://t.co/9QIMeQ1Tfr

— Tommy Vietor (@TVietor08) July 31, 2017
This is performance art. https://t.co/vtqZampVOZ

— Simon Blackwell (@simonblackwell) July 31, 2017
Perhaps the most discussion-inducing Tweet since covfefe https://t.co/UWqqHyTxT6

— Steve Lookner (@lookner) July 31, 2017
"No WH chaos" https://t.co/lSSL7lp2Tn

— Chris Cillizza (@CillizzaCNN) July 31, 2017
That last tweet is in reference to this earlier message from Trump, and there's quite a few people who disagree with the president, especially about that last part:
Highest Stock Market EVER, best economic numbers in years, unemployment lowest in 17 years, wages raising, border secure, S.C.: No WH chaos!

— Donald J. Trump (@realDonaldTrump) July 31, 2017
[Image via screengrab]
— —
>> Follow Ken Meyer (@KenMeyer91) on Twitter
Have a tip we should know? tips@mediaite.com