Undercovered: National Investigation Into Sexual Abuse in the Medical Profession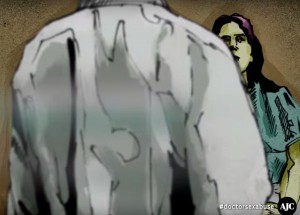 Welcome to Undercovered: our daily feature bringing attention to excellent reporting we feel deserves a larger audience.
—
A comprehensive national investigation by the Atlanta Journal-Constitution reveals how doctors have escaped scrutiny and censure for sexual abuse for decades.
Doctors & Sex Abuse is a massive, multimedia exposé and testament to the potential for computer-assisted journalism.
The series consists of multiple articles exploring how sexual abuse among doctors has escaped widespread national attention. Doctors & Sex Abuse also includes a host of resources for readers, including information about filing complaints and pages displaying local statutes and case studies for each individual state.
In order to take the national scope of the investigation, the AJC explains that it "wrote computer programs to 'crawl' regulators' websites – a process known as scraping – and obtain board orders. This required building more than 50 such programs tailored to each agency. That collected more than 100,000 board documents."
AJC continues:
To assist us in identifying those involving sexual misconduct, we then created a computer program based on machine learning to read each case and, based on key words and their relationship to each other as well as other factors, give each a probability rating that it was related to a case of physician sexual misconduct.

Over the past year, the project team sought other records, interviewed victims, doctors, regulators and experts and completed other research. This is the first installment of a series, which will run through year's end. To contact the reporting team, email doctors@ajc.com.
Go to doctors.ajc.com to read more.
—
Undercovered is a daily feature from Mediaite, bringing attention to stories that warrant more attention. Go through the Undercovered archives here. If you have an idea or a tip, please email us at Undercovered@mediaite.com 
[image via screengrab/AJC
Have a tip we should know? tips@mediaite.com