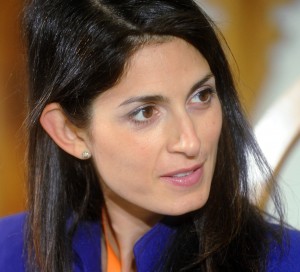 Welcome to Undercovered: our daily feature bringing attention to stories we feel deserve a larger audience.
—
Virginia Raggi, a 37-year-old lawyer, just became the first woman to lead Rome in its 2500-year history.
Raggi was elected mayor of Italy's capital city, capturing over 67% of the vote in a runoff election. (The first round of voting took place on June 5; the second round took place Sunday.)
Sky News reports that Raggi campaigned heavily on public outrage "over corruption and the deterioration of the city's public services," and that the "victory marked a significant breakthrough for her party, the populist Five-Star Movement, which was founded by outspoken comedian Beppe Grillo seven years ago."
[Raggi] is part of a new generation of Five-Star leaders who have emerged with growing public profiles as Mr Grillo has retreated from frontline politics.

They are being taken increasingly seriously after repeated banking scandals under the Mr Renzi's tenure, coinciding with economic stagnation.

Ms Raggi pledged that start of a "new era" of transparency and legality, saying her victory was a win for the citizens of Rome, though critics have said she will face a tough challenge to run the near-bankrupt city given her lack of experience.
"I will be a mayor for all Romans. I will restore legality and transparency to the city's institutions after 20 years of poor governance," she said, according to the BBC.
[image: Niccolò Caranti via Wikicommons]
—
Undercovered is a new daily feature from Mediaite, bringing attention to stories that warrant more attention. Go through the Undercovered archives here. If you have an idea or a tip, please email us at Undercovered@mediaite.com 
Have a tip we should know? tips@mediaite.com