Unearthed Emails Show Breitbart Editor Fishing For Wikileaks Dirt From Roger Stone: What's Assange Got? 'Hope It's Good'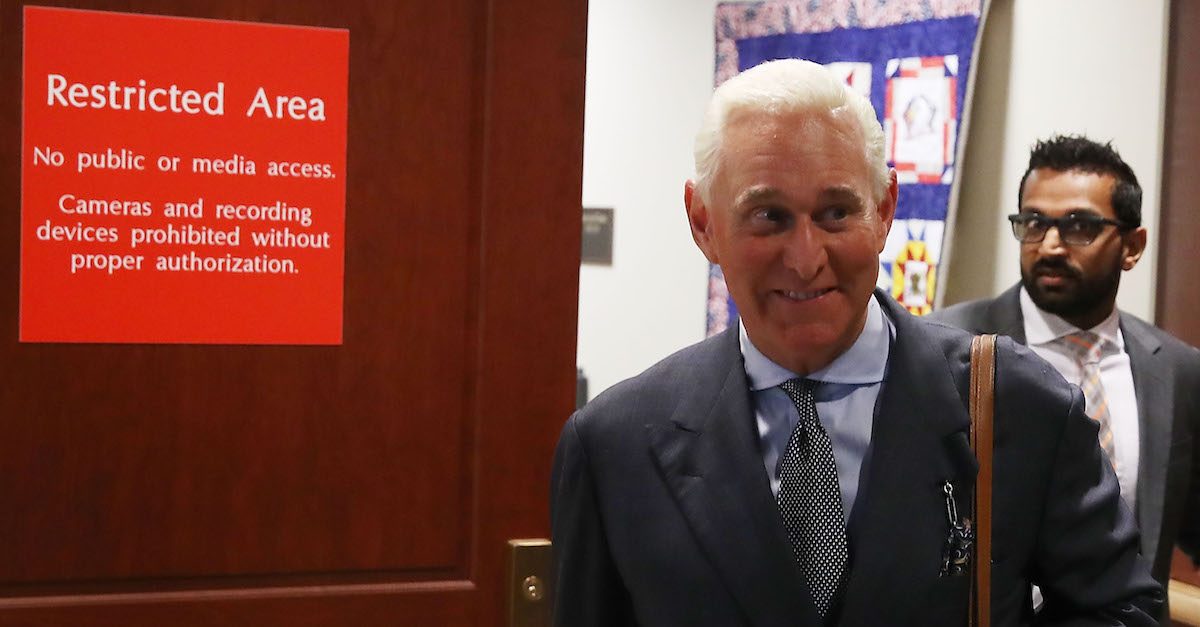 On Thursday, The New York Times published emails — typos and all — that show a Breitbart editor fishing for Wikileaks dirt from Roger Stone.
In 2016, with the election heating up and Clinton's Election Night victory fireworks barge in the works, political operative Stone was busy, it seems, convincing the Trump campaign that he had the inside scoop on Julian Assange's Clinton damaging email dump.
Publicly, Stone had predicted the Clinton damaging Wikileaks move on Twitter.
Here is the tweet (his account has since been suspended) as published by the New York Times:
Oct. 3, 2016 @rogerjstonejr: "I have total confidence that @wikileaks and my hero Julian Assange will educate the American people soon. #LockHerUp"
And in private, Stone was talking up his Assange connections with the Trump campaign and the closely entwined Breitbart News, which was run Steve Bannon until he joined the Trump campaign in its final pre-election push.
The Times provided the context for the email exchange.
"On the night of Oct. 3, Mr. Boyle emailed Mr. Stone," their report stated. "Mr. Assange had scheduled a news conference for the next day where he would announce he was releasing a new cache of documents. The emails show how closely intertwined Breitbart News and the campaign were and how people in Mr. Bannon's orbit saw Mr. Stone as a direct link to WikiLeaks."
Mr. Boyle refers to Matthew Boyle, a Breitbart editor close to Bannon. It was Boyle who sent the fishing email to Stone, hoping for inside dirt on Assange's email dump.
The email from Boyle to Stone read simply,  "Assange — what's he got? Hope it's good."
Boyle then told Bannon to call Stone, but Bannon seemed unwilling, replying to Boyle, "I've got important stuff to worry about."
That is when Boyle shot back this message making it clear he thought Stone had inside intel on the Wikileaks dump.
"Well clearly he knows what Assange has. I'd say that's important," Boyle wrote.
The next day, Assange held a press conference to announce the planned information dump.
Bannon, his interest piqued, then decided to talk to Stone about what Assange was up to with the press conference.
Stone's nebulous, say nothing response: "Fear. Serious security concern. He thinks they are going to kill him and the London police are standing done. However —a load every week going forward."
[image via screengrab]
Have a tip we should know? tips@mediaite.com