US Government Issues Subpoena To Twitter For Wikileaks, Assange-Related Accounts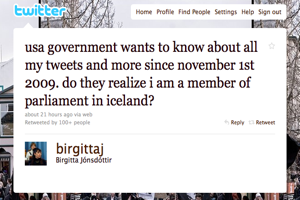 The noose around the necks of Wikileaks is now tightening at a rapid pace, with the United States finally getting overtly involved. Last night, Icelandic Parliamentarian and producer of Wikileaks' "Collateral Murder" video Birgitta Jonsdottir stated she had just been notified that the US Department of Justice had sent Twitter a subpoena for all of her activity on Twitter– and that of Julian Assange, and anyone involved with Wikileaks.
Wikileaks fremeny The Guardian, who broke the story after Jonsdottir's initial tweets, reports that Jonsdottir is doing everything she can to fight the subpoena, and has ten days to get the process in motion before Twitter is forced to hand over the information. While most of the information– tweets– is already public, this would also give the government access to her private messages on the network, which is what Jonsdottir has said she expects the government is after. She is also demanding a meeting with the US ambassador to Iceland, and is using all her weight as a member of the legislature to fight the release of her information. She tells the Guardian:
"It's not just about my information. It's a warning for anyone who had anything to do with WikiLeaks. It is completely unacceptable for the US justice department to flex its muscles like this. I am lucky, I'm a representative in parliament. But what of other people? It's my duty to do whatever I can to stop this abuse."
Meanwhile, over at Salon, Glenn Greenwald has uncovered the actual subpoena request (downloadable here) and astutely notes that, while Jonsdottir has been the loudest about the request, she is not nearly the only Wikileaks-related person whose information is being recalled. Also on the list, of course, is Julian Assange, but also other senior members of the organization, like spokesman Jacob Appelbaum and Rop Gonggrijp, and– if possible– suspected military leaker Bradley Manning. For all these entities, he explains, the government seeks "all mailing addresses and billing information known for the user, all connection records and session times, all IP addresses used to access Twitter, all known email accounts, as well as the "means and source of payment," including banking records and credit cards." Greenwald also questions– as Jonsdottir did over Twitter later– whether other social networking sites received similar subpoenas and remained mum about it.
The subpoenas finally confirm rampant speculation that the US Department of Justice is considering mounting a criminal case against Wikileaks for their work, though the targeting of people like Jonsdottir and Appelbaul, as Greenwald also points out, makes the search notably more sweeping. Jonsdottir's involvement in particular, as she is only known to have worked on Collateral Murder and had a very public change of heart about Assange's leadership, shows that it was not the diplomatic cables that pushed the Department of Justice to act– they're investigating every move Wikileaks has made in the past couple of years. Also notable in the list of names is the absence of Daniel Domscheit-Berg (PKA Daniel Schmitt), the former Wikileaks spokesman who has moved on to establish the rival site Openleaks after either resigning from Wikileaks in disgust or being fired by Assange for contempt. Domscheit-Berg's collaboration with the organization lasted much longer than Jonsdottir's, despite ending much more explosively, though it is also possible that the Department of Justice is banking on old animus against Assange to turn Domscheit-Berg to their side. For now, all parties involved must simply wait for the legal process to unravel, and for the American government to open up about their search.
Have a tip we should know? tips@mediaite.com