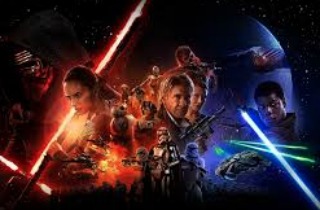 With the millions and millions of people caught up in the hype of Star Wars: The Force Awakens, there were surely at least a few people out there who thought "I wonder how the Catholic Church feels about the film?"
While the film is still setting records and has a 95% rating on Rotten Tomatoes, it seems that L'Osservatore Romano, the daily newspaper of Vatican City, was unimpressed with what they saw.
"The new director's set-up fails most spectacularly in its representation of evil, meaning the negative characters," wrote Emilio Ranzato in his article, "Confused and Unfocused." "Darth Vader and, above all, the Emperor Palpatine were two of the most efficient villains in that genre of American cinema."
Indeed, it seems that the newspaper of the holy city felt that the film "overdoes the darkness" without making the main antagonists sufficiently evil. The review went on to say that the villainous Kylo Ren was "insipid," that he only wears a mask in order to give audiences a new masked villain to fear, that his master, Supreme Leader Snoke, is "the most serious defect of the film."
"Without revealing anything about the character, all we will say is that it is the clumsiest and tackiest result you can obtain from computer graphics," Ranzato wrote. He went on to say that the film was more like a failed reboot than anything else, but also "an update twisted to suit today's tastes and a public more accustomed to sitting in front of a computer than in a cinema."
Other criticisms were directed towards JJ Abram's "sloppy" and "transparent" directing, and that film lacked the drama of its predecessors.
If you're waiting for Pope Francis's thoughts on the film however, don't hold your breath; according to NBC, the Supreme Pontiff isn't much for watching movies.
[h/t NY Post]
[image via screengrab]
— —
>> Follow Ken Meyer (@KenMeyer91) on Twitter
Have a tip we should know? tips@mediaite.com