Video: Keith Olbermann's Hilarious 'Special Comment' On Romney Hidden Video Crisis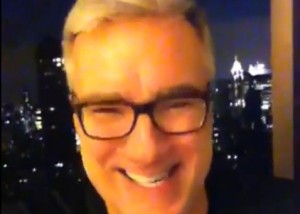 For all of those Countdown fans who have been jonesing for a Keith Olbermann fix, your wait is over. The former Current TV and MSNBC host came out of retirement Monday night to issue one of his patented Special Comments on beleaguered Republican presidential candidate Mitt Romney's hidden video woes. Olbermann's video works on several levels (kinda like Mitt's car elevator), but the really special comment came later, in response to taunts from right-wing media favorite Dana Loesch.
There was a great gag on Scrubs in which the main characters met up with Chuck Woolery, who informed them that Love Connection was never canceled, but that he continues to host the show in neighbors' basements. On Monday night, Keith Olbermann made that joke a reality, taking his old Special Comment segment out of mothballs to ridicule Mitt Romney over a hidden camera video that had Romney doing late-night damage control. See if you can spot the irony in this clip:
See, the title Special Comment created an expectation, in the viewer, that one of Olbermann's fiery political essays was forthcoming, but Romney's situation is so laughable and pathetic that Olbermann literally could not stop himself from laughing, thus preventing him from actually making any Comment, Special or otherwise.
The clip brought predictable mockery from the likes of Dana Loesch, who began to taunt Olbermann about his lack of a TV show. Up to this point, frankly, no one had shown much originality. Then, Loesch tweeted "So considering you've burned your way out of every network job, @KeithOlbermann , what ARE your options at this point?"
Then, just minutes after mocking Mitt Romney over a video that revealed the candidate's contempt for ordinary Americans, and underscored the public's perception of him as a rich, out of touch politician with no understanding of the common man, Olbermann responded "Living off investments, sleeping late, sitting around counting my money," adding, "You know, like Romney."
Burn?
Still, it was a nostalgic kick to see Keith back in the saddle, even if it was a small iSaddle. He had a great run as the fire-breathing voice of the left in a right-wing wasteland, but maybe Keith Olbermann just isn't built for a world in which a Bush administration is just something they offer at the waxing salon.
Have a tip we should know? tips@mediaite.com