Video: Rutgers Coach Under Fire After Shoving, Kicking Players, Hurling Gay Slurs
Video: Rutgers Coach Under Fire After Shoving Players, Hurling Gay Slurs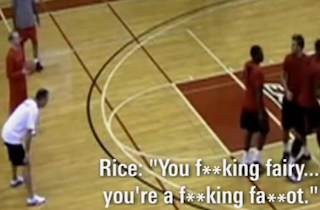 The college sports world made national news when ESPN aired video on Tuesday showing Rutgers University basketball coach Mike Rice shoving, kicking, and berating his players — including yelling gay slurs. Rice is further seen throwing basketballs at them. Now that the footage is public, many are questioning why Rice wasn't fired.
The full footage, which is said to be 30 minutes long, was taken at practices from 2010 to 2012, and was shown to Rutgers Athletic Director Tim Pernetti in December. Subsequently, Rice's was suspended for three games and fined $50,000, according to the New York Times.
Asked about the decision during an interview on Tuesday, Pernetti replied, "I made that decision. I am accountable for it. I have to live with it."
Months later, however, now that Rice's treatment of his players is publicly known, the coach is under scrutiny — as is the university. New Jersey Gov. Chris Christie even responded, questioning the leadership at Rutgers and saying he was "deeply disturbed" by what he saw.
"Governor Christie saw the video today for the first time, and he is obviously deeply disturbed by the conduct displayed and strongly condemns this behavior. It's not the type of leadership we should be showing our young people, and clearly there are questions about this behavior that need to be answered by the leaders at Rutgers University."
The video was complied by former Rutgers director of player development, Eric Murdock, who said he his contract was not renewed after he brought forth the footage to the athletic department. He said he planned to sue the university for wrongful termination.
Watch the video below, via ESPN:

Have a tip we should know? tips@mediaite.com