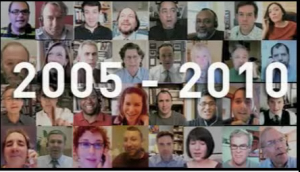 This week, Bloggingheads won the Internet.
Bloggingheads — pioneer in DIY web video which allowed a rainbow of bloggers, columnists, thinkers and pundits to debate with each other onscreen via webcam — launched their split-screen creation five years ago, on November 1, 2005, with an endearingly low-fi, brainily-awkward and awkwardly-brainy discussion between founders Robert Wright and Mickey Kaus. From there a web empire of wonkitude was born, quickly becoming a cult favorite amongst the super-keen blognoscenti types who were only too happy to spend an hour chewing over the political, media and social questions of the day. (I was one of them.) Their technical co-founder, Greg Dingle, was an innovator in the online video field for having developed the "Dingalink" (seriously) — a time-coded link which takes the viewer to a specific spot in a video, creating broken-up video segments called "diavlogs." If you're yawning, smartass, remember that he was doing this in, like, 2006, when a little-known company called YouTube was about to embed itself on your brain.
It's incredibly impressive what Bloggingheads created, and the NYT thought so too, picking up its content for distribution on its rarefied site. Almost more impressive: The video below, which toasts 5 years of B'heads with an incredible video mashup of its cerebral celebrities "singing" a thematically-rewritten version of "We Didn't Start The Fire" by Billy Joel. It is awesome. The cameos are wide-ranging, with, in no particular order: Christopher Hitchens, David Corn, Joan Walsh, Ana Marie Cox, Arianna Huffington, Jim Pinkerton, Gail Collins, Byron York, Josh Marshall, Ezra Klein, Ann Althouse, Rosa Brooks, Ross Douthat, Dave Weigel (his line was "Journolist," ha), Matt Lewis, Michelle Goldberg, Ezra Klein, John McWhorter, Tom Toles, Glenn Loury, Hanna Rosin, Maureen Tkacik (she got to say "Lady Gaga" the lucky duck), Ramesh Ponnuru, Andrew Golis, Susan Orlean, Richard Kim, me (filmed crouched on the floor in the storage closet at HuffPo's 23/6 for best sound) and of course, Mickey Kaus (featured in the best lyric ever, rhymed with "Cordoba House"). Watch, sing along and be smarter for it below.
Here are the lyrics, painstakingly hyperlinked to the diavlog from whence they came by the hardy Bloggingheads staff (probably the tireless managing editor Sang Ngo). These folks are *not* kidding around. FYI, I know a little something about just how painful it can be to do this sort of thing, since I did it myself 5 years ago, just a few short months before Bloggingheads was born. We are all nerds. Check out the brilliance below.
2006
Scooter Libby, Valerie Plame, George Bush, climate change,
Donald Rumsfeld, Zarqawi, Condelezza, O'Reilly.
Ann Coulter, Mel Gibson, Brokeback Mountain, Paris Hilton,
George Allen, DailyKos, Dick Cheney, Huffington Post,
John Kerry, neocon, the netroots, Joe Lieberman,
Hugo Chavez, Al Gore, wiretapping, Iraq War.
[chorus]
2007
The Sopranos, Barry Bonds, James Dobson, the Taliban,
MySpace, Karl Rove, Ron Paul, Guantanamo.
iPhone, Chalabi, YouTube, Huckabee,
The surge, Olmert, FISA, Ashcroft.
Olbermann, SCHIP, Larry Craig, Fort Dix,
Virginia Tech, John Yoo, Giuliani, Ban Ki-Moon.
2008
Barack Obama, Hillary, John McCain, primary,
Joe the Plumber, Bittergate, Sarah Palin, Troopergate.
Lehman Brothers, Edwards, Maliki, waterboard,
Somali pirates, Paulson, Musharraf, Bear Stearns.
Michael Cera, KSM, Michael Phelps, Boumediene,
Eliot Spitzer, Reverend Wright, Blagojevich, The Dark Knight.
2009
Ben Bernanke, cap-and-trade, Tim Geithner, Climategate,
Orszag, AIPAC, public option, drone attacks.
Wise Latina, empathy, stimulus, Kennedy,
Copenhagen, Iran, Rush Limbaugh, Mad Men.
Whole Foods, Sheila Bair, Skip Gates, Obamacare,
Michael Jackson, Fort Hood, Mark Sanford, Tiger Woods.
Scott Brown, Michael Steele, JournoList, oil spill,
Paul Ryan, Goldman Sachs, Twitter, Facebook, iPad.
Wikileaks,  vuvuzela, John Boehner, Lady Gaga,
Newt Gingrinch, Cordoba House, Nancy Pelosi, Mickey Kaus.
Avatar, General McChrystal, Rand Paul, Christine O'Donnell,
Shirley Sherrod, Harry Reid, Glenn Beck, tea party.
Have a tip we should know? [email protected]