Wait. What? Ricky Gervais Claims The Golden Globes Invited Him Back (UPDATE: Or Not?)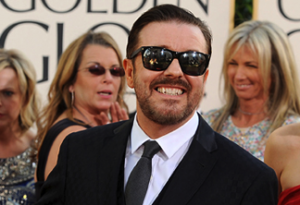 If you'll remember, just a couple weeks ago we were shocked, just shocked, at Ricky Gervais' Golden Globes opening. I mean, how dare he insult the integrity of an awards show that thinks Burlesque was one of the best films of the year or imply that, perhaps, Tom Hanks' career has been slightly more impressive than Tim Allen's? That's blasphemy! Clearly Gervais must be chased out of town with pitchforks! He must be run out on the rails! He must be- wait, what? He's been asked back? Oh, ok.
Here's what he wrote in the British celebrity magazine Heat:
"The response was staggering. It was discussed on every news channel and chat show for weeks. The weird thing is, the question is always, 'Did Ricky go too far?' And the answer is always, 'No.' I have yet to find anyone who was actually offended by it.
The ratings went up again, and the organisers asked me to consider a third year. I don't think I should. I don't know what I could do better. I certainly couldn't get more press for them, that's for sure."
Clearly the Hollywood Foreign Press realized he'd done something way more impressive than ticking off some celebrities; he'd gotten people to actually talk about the Golden Globes. Either that or all this outrage was just a might bit fake.
But, wait, does that mean people in show business court and then drum up outrage and controversy simply to get press? Oh, I can't believe that at all. Why would anyone do that?
In completely unrelated news, that episode of Skins that everyone in the world reported was worrying MTV with child pornography? Yeah, it aired basically unedited and no one got thrown in jail. Shocker.
UPDATE: I just don't know who to believe any more!
From the Associated Press:
"The Hollywood Foreign Press Association, which presents the Globes, denied that such an offer was made to Gervais.

'There is no truth to this rumor,' association president Philip Berk said in a statement Tuesday. 'We have not asked him to come back. Nice try, Ricky.'"
Have a tip we should know? tips@mediaite.com