Want to Share Your Vote? Org Aims to Connect Disenfranchised People With Eligible Voters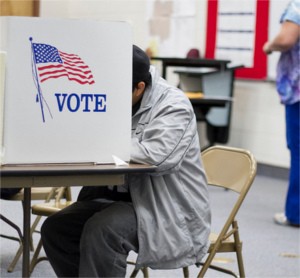 A California-based organization is connecting eligible voters with disenfranchised people, allowing them to converse about what matters to them this election cycle and empowering them to, so to speak, "share" a vote.
Vote Allies is an unincorporated non-profit initiative co-founded by Brett Shears. Its sparse website consists of a web portal that allows those interested in participating to submit their name and email, and to select whether they qualify as enfranchised or disenfranchised.
Shears says that there are 45 people currently signed up, though the number skews heavily toward currently eligible voters.
As far as whether or not these partnerships actually change hearts and minds, he says that one participant reconsidered their attitude toward Donald Trump after speaking to a noncitizen from Mexico, and learning how the GOP presumptive nominee's rhetoric was impacting life in Mexican-American neighborhoods.
On the organization's Facebook page, they acknowledge that "Any vote cast on behalf of the disenfranchised is ultimately a symbolic one, but the connections made and the conversations had between vote allies will have real, lasting effects on our political system."
Shears works for Los Angeles' elections' division, and his advocacy and volunteering activities connect him to "people who are potential voters, who could vote in an ideal world," he said, meaning disenfranchised people who live and participate in communities but, for one reason or another, have no say in the schools their children attend or the local governance.
The Vote Allies Facebook page is curated to be a resource of information about voters' rights geared toward people who are not citizens or who have a felony record. "People believe that if they have any conviction at all, they can't vote, but in California you can vote if you're on probation or parole," he said, stressing the importance of educating these "potential voters."
"We're not saying 'Let everybody vote,'" he told Mediaite. "But we need to have a conversation. The patchwork of laws deciding who can vote across the 50 stats is just mind boggling." Shears' personal belief is that residents should be allowed to vote "at the level at which they are most affected," meaning community boards, school districts, and other "hyperlocal" arenas.
"We're talking about people who want to be here. All these people say they're American," Shears told The Guardian.
Shears says that there is nothing legally prohibited about the project, which he emphasized repeatedly is focused on starting conversations. He pointed to Ninth Circuit decision in Porter v. Bowen (2007), in which plaintiffs were threatened with prosecution after setting up a website that would allow people to swap their votes across state lines. The judge held that "websites' vote-swapping mechanisms as well as the communication and vote swaps they enabled were constitutionally protected."
Shears conceded that the eligible voters who were most likely to participate were already responsive to the cause of increasing voter participation, but that the impact of a project like this is that it can persuade people of the importance and value of their vote. "People may be sympathetic, but don't have sufficient motivation to use their vote," Shears said. "Hopefully, they might say, 'I don't value my vote so much now, but other people do. So I'm going to listen to them and hear what they have to say.'"
He likens the arrangement to the way in which, before women's suffrage, husbands and wives would consult with each other and the man would cast a vote on behalf of his family unit. Vote Allies, he said, is about adding to a conversation that has been going on for over 200 years.
[image: Lindsay D'Addato via Flickr]
Have a tip we should know? [email protected]