WashPo: Trump Directed Over $2 Million in Income to His Tax-Exempt Foundation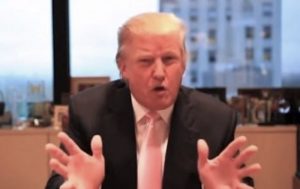 The Trump Foundation, a tax-exempt charitable organization, received nearly $2.3 million meant for Donald Trump, which would have been taxable income, according to a new report in the Washington Post by David Fahrenthold.
Four-hundred thousand dollars of that sum was from Comedy Central — Trump's fee for participating in his 2011 roast. His campaign said that he paid income on that, but could not provide proof and would not speak to the other sums, which total a little less than $1.9 million.
It is unlikely voters will learn if Trump paid taxes on this income, since he has repeatedly refused to release his tax returns.
Fahrenthold writes:
The laws governing the diversion of income into a foundation were written, in part, to stop charity leaders from funneling income that should be taxed into a charity and then using that money to benefit themselves. Such violations can bring monetary penalties, the loss of tax-exempt status, and even criminal charges in extreme cases.
Boris Epshteyn, a Trump senior advisor, responded:
Epshteyn, in the Saturday interview with The Post, said Trump did not knowingly violate any tax laws. "There's been no intent, in any way, to go against any applicable rules, laws, and regulations," Ephsteyn said. "If you suggest it any way otherwise, publicly, it's dangerous and irresponsible."
The Post report Monday is the latest from Fahrenthold who has previously written about how the Foundation apparently paid $258,000 meant for charity to settle Trump's personal legal matters and how Trump has contributed none of his own money since 2008. Trump has said the reporting was "biased."
The New York Attorney General has opened an investigation into the foundation "based on troubling transactions that have recently come to light," its office said.
Asked in a recent interview if his foundation followed all the laws, Trump said, "Well, I hope so, I mean, my lawyers do it."
You can read the latest Post report here.
Have a tip we should know? tips@mediaite.com