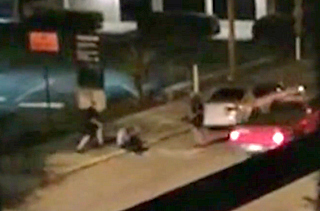 The Orlando Police Department released video Tuesday of an officer kicking a suspect seated on the curb. Taken from across the street, the video shows 30-year-old suspect Noel Carter apparently cooperating with officers before being kicked into submission.
The Orlando PD is investigating the incident but thus far has not put either of the officers involved on leave.

According to the police department, Carter had been violent toward his girlfriend moments before, and had run from the cops when they tried to apprehend him. Via the Orlando Sentinel:
On Monday the department produced new supplemental reports. In them, the officers wrote that they argued and struggled with Carter over a distance of 75 to 100 yards.

During that time, Carter struck Mays with an open hand and at one point was on the ground on top of Cruz, they wrote.

Officers hit him three times with a metal baton, used chemical spray twice, shocked him four to seven times with a Taser and tackled him, they wrote.
"I feared Carter would regain power and get back up and attempt to fight Officer Mays and me," David Cruz, the offending officer, wrote in his report. "I was also feeling the effects of Sabre Red in my eyes, possibly rendering me defenseless if the effects became too strong,"
On Wednesday Carter filed an excessive force complaint against the department. "I am here today to request the State Attorney's Office do a full and complete investigation into the actions of Officer Mays and Officer Cruz, as depicted in the recorded video, and bring charges against each officer for battery and aggravated battery with a weapon that they illegally inflicted upon me," he said. Carter has not admitted to any wrongdoing.
Nonetheless, the department has not yet taken action. "That video is only a small piece of what happened that night," chief John Mina said.
Watch the clip below, via WKMG:
[h/t Orlando Sentinel]
[Image via screengrab]
——
>> Follow Evan McMurry (@evanmcmurry) on Twitter
Have a tip we should know? tips@mediaite.com