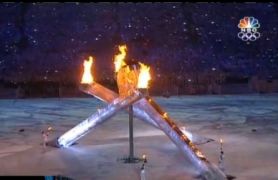 Oh Canada. After much speculation about who would light the flame, tonight's very lengthy, very Canadian, Winter Olympics 2010 opening ceremony ended with a, shall we say epic, passing off of the Olympic torch: from Rick Hansen, to Catriona Le May Doan to Steve Nash (yes, he's Canadian) to Nancy Greene Raine, to the Great One Wayne Gretzky (was there ever another choice?). It was perfect. Then things got a bit tricky. It's a moment perhaps best enjoyed via Twitter (video below):
@cherwenka: Uh oh. We forgot the cauldron.

@eahanks: OH GOD. SOMETHING HAPPEN OR I WILL HAVE TO LOOK AWAY

@rachelsterne: "Truth be told, they may be experiencing something of a mechanical failure here."

@rachelsklar: omg gretzky's face. omg. please work, whatever is supposed to work. also, i'm sorry for laughing.

@cherwenka: Anyone else thinking about spinal tap right now? #olympics

@MajoratWH: An OC "door malfunction." How discreetly Canadian.

@raywert: Wayne Gretzky doesn't look happy.

@eahanks: Someone is getting fired right now, in very angry French, I imagine. #van2010

@raywert: How many Canadians does it take to light an Olympic torch? #toosoon #Olympics #badjokes

@dceiver: Okay, so apparently, Gretzky is going off to do this again with Chief Justice John Roberts, and everything will be fine.

@cherwenka: RT @colleenlindsay: This just in: Olympic torch pillars being recalled by Toyota. #olympics

@MajoratWH: Anyone can do harmonically balanced, 4 pronged indoor ice crystal. 3 legged one, so unconvetional, arch, unique. #torchexcuses
Fear not, the flame was eventually lit. The Winter Olympics 2010 have officially begun. Oh Canada.
Have a tip we should know? [email protected]
---