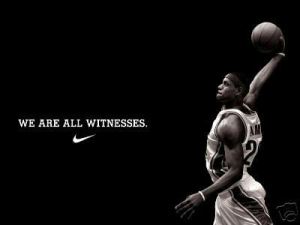 If arguably the best basketball player in the world gets dunked on, and no one's there to watch it on YouTube, did it really happen?
That's the question coming out of the LeBron James Skills Academy this week, where two freelance videographers say Nike, who ran the camp, confiscated tapes they shot of a particularly embarrassing play for James. College player Jordan Crawford of Xavier apparently threw down a two-handed dunk on King James in a pick-up game – apparently, because shortly after it happened a Nike official shut down the filming that was taking place (and allowed) and removed any possibility the incident would circulate on YouTube and beyond.
Here's how one of the videographers described the day: "It had to have been because LeBron — he played terribly all day, actually. Those three games he played terribly. So my guess is he didn't want anybody seeing the footage. That's the only thing we could think of."
Instead of laughing off the one time the King got schooled, the cover-up has turned into a PR nightmare. Web sites like Deadspin.com have posted several times about the incident, and the original CBSSports.com story has gotten traction from mainstream outlets and blogs alike. The story has shifted to how petty LeBron and Nike were, and phrases like "you can't deprive a man of his First Amendment rights" are getting thrown around. This is really better than just letting the tape live on YouTube, maybe garnering some eyeballs for a day and being quickly forgotten? We don't know if it was LeBron or Nike who made the call – and LeBron James is not a bad guy. But this may hurt his fairly flawless image – for a strong guy, his fear of YouTube — and the masses of basketball fans — just makes him sound weak.
Since the tape is gone, we'll just assume it looked like Hakim Warrick's dunk on Royal Ivey (this is YouTube-able…and yes, Syracuse bias noted).
Also, we have to settle for Crawford's description of his dunk, which is also YouTube-able:

——
• Follow Steve Krakauer on Twitter
Have a tip we should know? tips@mediaite.com