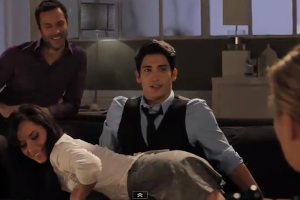 Sometimes I'm really jealous of the folks over at Geekosystem. While we're constantly writing up news stories that make us angry, they get to do posts on fun video games and stuff that makes them happy. Well, yesterday, they finally got one that disturbed them as much as we usually are: a commercial for a new video game (only being released in Europe!) that appears to be being sold as the perfect orgy starter. Say what you will about the "Lean Forward" campaign, but no one got spanked in any of those ads.
The game is called We Dare and it appears to be a kind of electronic truth or dare game, no different than any "edgy" adult party board games. However, the commercial makes no attempts at subtlety, featuring spanking, stripping, and a series of alternate endings where shadowy silhouettes show you the many ways the two attractive couples can end their evening of sexy Wii playing. It's a little unsettling.
Look, it's hard to say why this commercial made me so uncomfortable. I'm all for consenting adults having all the sexy fun they want, especially if they're as attractive as the people in this commercial. There's just something about the gleefully dumb way this ad mixes sexual exploration with the look of a Super Bowl beer ad that just makes it…wrong. My opinion wasn't in the minority. After a large number of gaming blogs voiced their disapproval yesterday, the YouTube version of the ad was edited to only be viewable in Europe. Sure, there's the obvious reason that the game will only be sold in Europe, it's not too hard to imagine the reaction influenced the change.
The other reason that makes the ad so odd is that, while the game is being sold for the Nintendo Wii and the Sony Playstation 3, the commercial makes a point of using the Wii version, highlighting a number of provocative uses for its iconic Wiimote. This is strange because Nintendo has always been famous for their very tough content rules and the censorship they've used to maintain them. While the content of the game itself looks relatively chaste (fully clothed cartoon people kissing and such), the commercial is purely built around the not-at-all chaste action on the other side of the TV screen.
It's all just weird. And, seriously, who'd have thought that the next movie to get a video game adaptation would be Bob & Carol & Ted & Alice?
Check out the commercial below (which ends before all of the dirtier but still PG-13 alternate endings). Geekosystem's write up is here.
Have a tip we should know? tips@mediaite.com