'What a Train Wreck': Twitter Skewers Trump Spokeswoman Over Interview on 'Mexican' Judge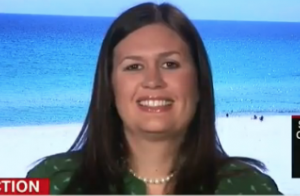 If Twitter activity is an indication of the public mood, it seems that a lot of online news viewers aren't showing any mercy for Donald Trump's surrogates as they tie themselves in knots to defend him.
Sarah Huckabee Sanders appeared on CNN's New Day this morning, and she was questioned by Brooke Baldwin over Trump's persistence on attacking Judge Gonzalo Curiel for his Mexican ancestry. Baldwin wondered if it was about time the mogul apologized to the judge overseeing the lawsuit against Trump University. Sanders, however,  seemed to spin away from the topic instead promising Trump will win the presidency.
Baldwin also asked Sanders to respond to those saying that Trump's comments are harming the GOP's standing among Hispanics and Latinos. Sanders insisted that they would eventually get on board with Trump over his economic and national security stances, and she proceeded to defend Trump over several of his policy flip-flops.
Unfortunately for Sanders, a great deal of people seem unimpressed that Trump's spokespeople are continually resorting to deflections and rehashes of old excuses. Senior press representative Healy Baumgardner has been taken to task on this point for the last several days, and today, it seems that its Sanders' turn:
Curious how many Latinos @SarahHuckabee knows because I'm Mexican and do not know a single Mexican who would consider Trump #talkinghead

— Anthony Corona (@AnthonySCorona) June 6, 2016
Sarah Huckabee Sanders doesn't have an ounce of integrity in her entire body. Disgraceful. #NewDay

— Tobie Michele (@Jedami) June 6, 2016
Spin doctor for Trump Sarah Huckabee Sanders..great dodger of the questions on his criticism on Judge Curiel…

— Eli Garza (@EliGarza5) June 6, 2016
@sarahhuckabeesanders Shame on you, Sarah, for turning your back on your faith, your conscience, and your moral high ground.

— k knew (@suntvknew) June 6, 2016
@NewDay Sarah Huckabee Sanders is Racist and Ignorant just like Donald Trump & her Father. Really Really Sad!!

— Sasha Taylor (@sasha3taylor) June 6, 2016
@BrookeBCNN was excruciating watching Sarah Huckabee Sanders trying to defend Trump in her interview this morning.

— Bryan (@bryanfunk1) June 6, 2016
@NewDay Sarah Huckabee Sanders should truly be ashamed. What an absolute joke.

Shame on her. #shame

— Kimberly Callaghan (@KCally) June 6, 2016
Who in the hell is Sarah Huckabee Sanders ? another in the list of babbling lying parrots of the Drumpf cavalcade of propaganda spouters

— John Lalonde (@wanuga) June 6, 2016
Sarah Huckabee Sanders – the name for real? Is Bernie aware of his name used in vain?

— )))Ethnik Matter))) (@EthnikMatter) June 5, 2016
I'm trying to slog through this @cnn interview with Sarah Huckabee…what a train wreck.

— ((Remember Scalia))) (@Mattfobrien) June 6, 2016
[Image via screengrab]
— —
>> Follow Ken Meyer (@KenMeyer91) on Twitter
Have a tip we should know? tips@mediaite.com