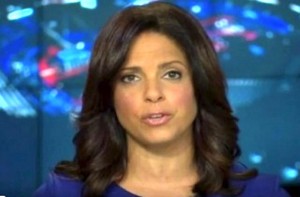 Former CNN anchor and media executive producer Soledad O'Brien didn't mince words yesterday when she expressed her disapproval with her former network. And for all the criticism that CNN frequently has lobbed against it — too many countdown clocks, inappropriate chyrons, charges of dishonesty — O'Brien's criticism comes down to one person:
Jeffrey Lord.
Lord, the outspoken contributor to the network who has defended Donald Trump this last year at times beyond the point of absurdity, seemed to have ticked O'Brien off this week.
On @cnn yesterday guest Jeffery Lord said post-election protesters were equivalent to Nazis. CNN might want to examine it's own journalism. https://t.co/p632zc6G60

— Soledad O'Brien (@soledadobrien) November 23, 2016
On Tuesday night, Lord worked himself up into controversy over remarks he made on AC360 regarding the emerging white supremacy movement spearheaded by Richard Spencer and the vaguely named National Policy Institute. "The left sort of provoked this," he said to the shock of his fellow panelists.
O'Brien's Tweet was in direct reference to one from Christiane Amanpour that closely resembles her rhetoric at this week's Committee to Protect Journalists dinner in New York City:
Now more than ever we need to commit to real reporting across a real nation, a real world in which journalism/democracy are in mortal peril.

— Christiane Amanpour (@camanpour) November 23, 2016
Back in September, O'Brien was openly critical of CNN's coverage of the election. Appearing on the network's Reliable Sources, she expressed concern on the amount of airtime CNN was giving white supremacists.
Have a tip we should know? tips@mediaite.com