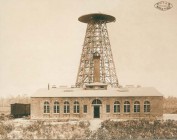 There is no escaping the death of newspapers! Seriously, even Mozart isn't immune. One supposes that in the midst of all the buzz about the extreme measures the New York Times Co. has had to take to cope with its financial situation it should come as no surprise that they have agreed to sell WQXR (the classical radio station of the New York Times).
The sort of good news is that according to the New York Times the company has struck a deal to sell it to WNYC Radio (NPR!) and Univision, which is way better than, say, the time CBS oldies station 101.1 was switched to Jack FM literally overnight with no warning. But the rest of it is not so great.
WQXR would move to a weaker signal near the high end of the FM band, and would become a listener-supported station, owned by WNYC, the nation's largest public radio station. The Times Company, which has been trying to shed assets to raise cash and weather a newspaper industry downturn, would receive $45 million, but would sever ties with a station it has owned since 1944.

Talk of the sale also sent shivers through cultural institutions that rely heavily on WQXR, like the New York Philharmonic, the Metropolitan Opera and the Juilliard School.
Also, everyone who works there will have to reapply for their jobs. The ray of sunshine in the news that the station is weakening its signal and moving further up the dial is that it is possible to livestream the station on your computer! (Like the youth of the world we do not listen to the radio). Otherwise, this is sad news.
Have a tip we should know? tips@mediaite.com