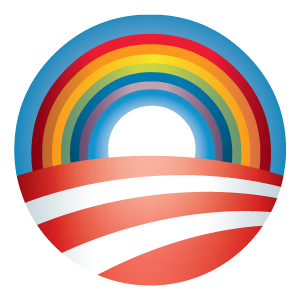 What with all the scandals, specials, and Sarah stories, Obama has been cooling off in the shadows of the media spotlight lately. This is not to say, of course, that the things on his plate aren't being covered. But maybe because he threw a big, gay White House party recently, or maybe because Joe Jackson's Ranch Records plug was more important to the American public, Obama has been let off the hook recently about his commitment (or lack thereof) to changing the nation's policies that make gay Americans second-class citizens. There is, however, a strong online gay tidal wave brewing – one dedicated solely to shining a light on every gay thing Obama does. These are the people who do ask, do tell (do pursue and yes, do harass) and all from the comfort of their own online home.
1) Queerty – Queerty tries extremely hard to be the most opinionated gay
blog out there.  They might succeed if their snark didn't translate into insults indiscriminately being hurled at everyone and anyone.  But since its inception, Queerty has undoubtedly been writing impassioned, biting commentary on everything gay.  When Queerty gets it right, its posts are inspiring, angering, and beautiful because its writers have little interest in reporting – they scream, they shout, but they rarely let someone slip by if it affects the LGBT community.  They understand that hot, half-naked guys might draw a little more attention than a great post about Obama's unfulfilled promises, but that certainly doesn't mean they bite their tongues.
The Gayest Obama Criticism: Obama Promised to Uphold His Promises. He's Not Getting Off That Easy, Marks His Words: Gays Will 'Have Some Pretty Good Feelings' About Obama Administration, Obama Must Issue Exec Order to Begin DADT Repeal. And Yet He Won't, and the real zinger, THAT'S IT: Obama Has Spat and Shit In the Faces of Gay America
2) The New Civil Rights Movement – For being a one-man show, The New Civil Rights Movement does its part to be a go-to blog for both reports and analysis of the most recent gay politics.  The Twitter-holic David Badash behind the site says he hopes it will help quash people's ignorance, not unlike the way news about Prop 8 sparked his own interest in following gay news.  TNCRM makes this list for its thoughtful, probing posts and strong activist mentality.
The Gayest Obama Criticism: Obama's Regifting of Gay Rights, What You've Been Waiting For: Obama's Gay Rights Revolution, Is President Obama doing enough and keeping his promises to the gay community?
3) Andrew Sullivan's The Daily Dish – Although Andrew Sullivan doesn't
devote his online musings solely to the gay rights movement, he brings a history to the issues that few other online writers do.  Not only was he one of the first mainstream journalists to experiment with blogging, he also carries a background of an openly gay, high-profile journalist and academic in the early 1990s.  His writing about gay issues has lined the pages of the New York Times, Best American Essays (of 1999), and The New Republic.  It is no wonder, then, that from his perch on The Atlantic, he is one of Obama's most influential online critics.
The Gayest Obama Criticism: Obama's Gratuitous Insult to Gay Couples, Obama's Moment of Truth on Gay Equality, UGH
4) AmericaBlog – AmericaBlog just launched its gay-only off-shoot of the motherblog, but the site would have made this list with or without its own homo URL.  Gay AmericaBlog could be considered the more outspoken counterpart to its friend-blog, Towleroad (a site that would have made this list if it wasn't trying to be the gay CNN by reporting instead of commenting).  Yes, the advertising on the site takes up exactly half of the screen, but the posts never stray from their intent to deliver the truth that "a great nation deserves," which, unfortunately, often includes deep criticism of Obama and his administration.
The Gayest Obama Criticism: Obama Defends DOMA in Federal Court, Obama DOJ Lies to Politico in Defending Hate Brief Against Gays, Obama and the Gays, Again, President Obama Revealed Today Another Reason He Can't Act on Don't Ask Don't Tell
—–
Follow Kevin Gotkin on Twitter!
Have a tip we should know? tips@mediaite.com