When It Comes to Foreign Donations, Hillary Can't Cry 'Right-Wing Conspiracy'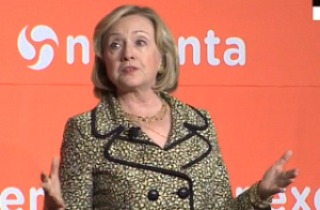 Paging "vast right-wing conspiracy" media combatant Hillary Clinton. In case she hasn't noticed, this "nothing to see here" defense of questions about her personal and professional money ties to foreign corporations and governments is just not working.
Where's 2016 candidate Hillary Clinton? Her media presence is like watching a tug boat in a hurricane. She's not doing battle on the airwaves or the campaign trail. In keeping with her low key launch, she's uncharacteristically passive when fending off attackers — and there are a lot of those. Based on her performance so far, even liberals have a hard time not sounding like anti-Clinton conservatives.
The New York Times, Reuters, Politico, the Wall Street Journal, and the Washington Post have all written pieces in the last 24 hours that link Clinton to controversy involving foreign donations to her family's foundation while she was Secretary of State. All are following up on reporting done by conservative author Peter Schweizer in his new book, Clinton Cash.
It's no longer just conservative media leading the charge in asking questions of the Clintons.
But Clinton is staying mum while seemingly everyone asks how they can be sure that she — who may be a future president — is not and was not influenced by this potentially vast money-laden conspiracy. Seems she's taking a defensive play from her last scandal when she delayed answering questions about sending business emails from her private server while Secretary of State.
White House press secretary Josh Earnest, in response to a reporter question asking if he was fully satisfied with Clinton's level of financial disclosure, said yesterday there is "no evidence to indicate that somehow there has been insufficient information." No evidence? Well, that clears it up. Seems like a non-denial denial to me. Or, as Bill O'Reilly said last night on Fox News, while calling for a federal investigation, this "makes Benghazi look like a horseshoe game."
In the good ol' '90s, when her husband was lying to her about an affair, she famously defended her family to NBC's Matt Lauer by attacking the media. That was feisty Hillary. Even though she was wrong, and he did have sexual relations with "that woman," she fought back with the best ammo she could muster.
Again, it's not just right-wingers who are questioning her. The Washington Post published a front page piece pointing out a stunning relationship between the Clinton Foundation and the Clintons' growing personal wealth. If, as Hillary Clinton told ABC's Diane Sawyer in 2013, that she and husband Bill left the White House "dead broke," it sure isn't so today. And she has a lot of explaining to do.
After examining public records and foundation data, the Post reported that the share of Bill's overall $26 million in speakers fees between 2001 and 2013 came from major Clinton Foundation donors. And, roughly 16 percent of about 420 organizations that paid him also gave at least $10,000 to the foundation during that time.
The New York Times did some hefty additional reporting, based on Schweizer's book, and found that the State Department approved a sale of uranium mines to a Russian company while a Russian bank made some generous contributions to the Clintons.
Reuters reported exclusively that the family's charities are "refiling at least five annual tax returns after a Reuters review found errors in how they reported donations from governments, and said they may audit other Clinton Foundation returns in case of other errors."
Politico reported that at a fundraiser for Hillary 2016, campaign chairman John Podesta massaged questions about the Clinton Cash book and her financial ties. "The most pointed query from donors to Podesta was, how do we respond to questions raised by a new book linking millions in Bill Clinton speaking fees to wealthy foreign donors angling for influence with the highest-ranking officials of the U.S. government — including his wife, the former secretary of state?" the D.C.-based outlet reported.
And the most damning of all came yesterday afternoon from liberal columnist Jonathan Chait in New York magazine. Titled the "Disastrous Clinton Post-Presidency," he went after the Clinton's "fiasco" of a "quasi-government" charitable organization.
It looks like I spoke too soon last week when I predicted a "media love fest" with Clinton. The mainstream media is piling on the presumptive nominee and attempting to hold her accountable for what seem like indefensible acts. But we know the Clintons. They didn't call her husband "Teflon Bill" for nothing. In the end, it will all slide off with ease.
Nevertheless, it will be fairly difficult for Clinton to declare the New York Times or New York magazine as part of a "vast right-wing conspiracy." The big question is whether the media can find direct evidence that anything points to a direct quid pro quo. In this media firestorm, journalists smell blood. No matter if the smoking gun is found, it's going to take a much more aggressive campaign strategy to patch her self-inflicted wounds.
[Images via Shutterstock.com]
— —
>> Lauren Ashburn is an award-winning, Washington-based journalist and TV analyst covering media and politics. Follow her on Twitter here.
Have a tip we should know? tips@mediaite.com