Flip on MSNBC and you see Rachel Maddow staring you in the face.  Glance at your computer, and you will see wide-ranging opinion blogging by Andrew Sullivan, John Aravosis, Pam Spaulding, and others.  But open up a big-city newpaper's editorial pages and you will be faced with . . . well, almost nothing.
Despite the presence of LGBT pundits and writers online and even on MSNBC, there is a major absence of gay and lesbian voices in the editorial pages of the newspapers.  With the exception of Deb Price at the Detroit News and Jamie Kirchick at the New York Daily News, there are no regular opinion writers in America to be found in the newspaper world.  When progressive media watchdog Media Matters did its 2007 analysis of the opinion columnists in major newspapers, only Price was listed among the 100 most distributed columnists.
There have long been complaints about the lack of diversity on the opinion pages and in the pundit class that populates panels on Meet the Press and ABC's This Week. Just as female and African American opinion writers and pundits bring their own view of the news, so do gay and lesbian opinion writers and pundits.
So who are the major newspapers and news shows overlooking when they fail to include gay and lesbian opinion writers and pundits who focus on general news (as opposed to a specific LGBT issue)? The following list includes many well-known names who already do opinion writing, but also a few choices from left field. A unique challenge in identifying candidates was determining whether certain writers were "openly gay."  There are at least two people who could easily be placed near the top of the list—the editorial page editor of a major newspaper and a political blogger– but there were questions about how public they were about their sexual orientation.
Jamie Kirchick – The young-turk conservative/libertarian whose opinions appear to show up everywhere, including the New Republic, the New York Daily News, the Advocate, and the Los Angeles Times.  Kirchick's specialty is rocking-the-establishment, on both the right and the left.  Think of a less-stuffy, more opinionated Andrew Sullivan who is more interested in Israel than Sarah Palin. He's also great on a panel and isn't afraid to challenge the status quo.
Jonathan Capehart – He has the editorial page cred–the Washington Post and the New York Daily News–and he's a regular on the MSNBC morning shows.  But he seems to like the glare of the television lights more than writing columns, with very few bylined editorials at WaPo. He's proven he can write columns–he also wrote a column for Bloomberg–but he doesn't seem to be that interested in taking his pro-business moderate views on the road.
Jonathan Rauch – The thinking-man's writer, Rauch has toiled away as a columnist at the wonky National Journal and achieved acclaim for his thoughtful, intelligent writing on a wide-range of topics. He's a David Brooks-styled conservative with the ability to cut through the minutiae of politics and policy. His writing on same-sex marriage is among the most reasoned around.
Frank Bruni – If a theater critic like Frank Rich can become an op-ed columnist at the New York Times, why not a former restaurant critic who spent years covering the White House and the Vatican?  Bruni is one of the NYT's Lavender Mafia—including Richard Berke and Adam Nagourney—who could easily find themselves on the op-ed pages.
Andrew Sullivan – Okay, the guy's everywhere.  But when he writes an op-ed column, it's for the Times of London.  Why isn't he writing more for U.S. papers?  Is he not interested?  Read his blog or watch him on Bill Maher or Chris Matthews and you know he has opinions on everything.  He also may be one of the best writers among the gay public intellectuals.
Pam Spaulding – The darling of the netroots, Spaulding is a versatile blogger at Pam's Houseblend comfortable with a variety of topics and she's proven agile at writing longer pieces. While the trackrecord for bloggers-turned-opinion columnists isn't great–Ross Douthat's lackluster year at the NYT comes to mind–Spaulding may be able to make the transition.
Dan Savage – Savage is a regular on Keith Olbermann and is often called upon to be the "opinionated gay liberal."  But Savage is a great storyteller and, well, an opinionated gay liberal.  His sex column is a must-read and his work as top editor at Seattle's alternative newspaper The Stranger shows Savage has the writing chops. But can he take his progressive-cred mainstream?
Karl Frisch – Another netroots favorite, Frisch has a regular column at Media Matters and has the Capitol Hill credentials to speak authoritatively about politics, as well as the media. He's very funny, but also had a wonky edge that makes his writing interesting, but not boring.
Winnie Stachelberg – If opinion writers can come from think tanks, there's no reason Stachelberg shouldn't be on the short-list of smart opinion thinkers.  A former top lobbyist for the Human Rights Campaign, Stachelberg is now at the Center for American Progress.  She's smart, reasoned, and well-connected.
Sandip Roy – The guy you've probably never heard of, but should be reading.  He writes for Huffington Post and New American Media and hosts his own radio show in San Francisco. He writes a lot of cultural commentary–with a focus on India and South Asia–and also brings an interesting viewpoint to the LGBT discussion. Another great storyteller, he deserves a bigger audience.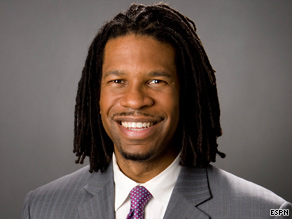 LZ Granderson is a senior writer and columnist for ESPN The Magazine and ESPN.com, and has contributed to ESPN's Sports Center, Outside the Lines and First Take. A popular campus speaker, Granderson is more than "the gay sports guy" and his opinion pieces–including one on race and sexual orientation–often prove to be controversial. He's incredibly charismatic and could easily become a top pundit or opinion writer.
Kerry Eleveld – Eleveld is the Washington correspondent for The Advocate who has quickly become one of the biggest names in the LGBT journalism world.  But her background is in business writing and she launched her own publication when she was 26 years old. She understands the Washington-beat and the camera loves her.  She shines when writing longer, thought pieces.
Have a tip we should know? tips@mediaite.com