White House Threatens To Ban San Francisco Chronicle For Releasing Fundraiser Protest Video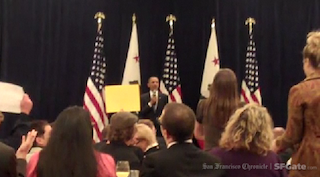 Last week, President Obama held a fundraiser in San Francisco during which a group of protesters stood up and began singing a song in support of imprisoned WikiLeaks source Pfc. Bradley Manning. Carla Marinucci, senior political reporter for the San Francisco Chronicle, recorded video of the protest and later posted it in the online version of her report. While media outlets around the country wrote up the incident, this video has led the White House to threaten the Chronicle with expulsion from all future pooled coverage in the area.
The Chronicle readily admits that Marinucci broke the rules of the event:
"Chronicle senior political reporter Carla Marinucci was invited by the White House to cover the Obama fundraiser on April 21 on the condition that she send her written report to the White House to distribute to other reporters who did not attend. Such 'pool reports' are routinely used for press coverage at White House events that are not open to the entire press corps.

…

As part of a 'print-only pool,' Marinucci was limited by White House guidelines to provide a print-only report, but Marinucci also took a video of the protest, which she posted in her written story on the online edition of The Chronicle at SFGate.com and on its politics blog after she sent her written pool report."
They also quote from a professor at the UC Berkeley Graduate School of Journalism who notes that this is not an unusual action by an administration, citing shaky press relations from the Nixon and Ford White Houses. However, Chronicle Editor Ward Bushee points out that times are different. Everyone has the capability to record video and share it instantly. What if something more substantial had occurred at the event like an attack on the President? Should the reporters have sat on their thumbs and not pulled out their Flip Cams? Also, doesn't this go against Obama's promises to have "the most transparent" administration in history?
So, what do you think? Is this reprimand and threat a suitable punishment for a news organization that didn't follow the rules or is the White House wrong in trying to live by rules that go against modern realities and promises made while campaigning?
Marinucci's video is still online. You can see it below:
Have a tip we should know? tips@mediaite.com