White House Using Smarts, Savvy to Win Early Social Media Battle Over Heated SCOTUS Nom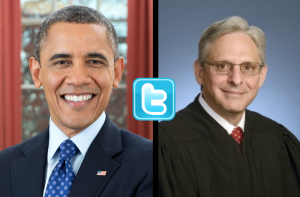 In a social media age where every conceivable enterprise, candidate, company, and grassroots effort is looking to take advantage of a mass audience with shareable content, the White House has gotten off to a strong start in the battle to confirm DC Circuit Court Chief Judge Merrick Garland to the Supreme Court.
President Barack Obama nominated Garland yesterday, and despite a long history of centrist rulings and strong likability, Garland is expected to face a tough, if not impossible, battle for confirmation through the stingy Republican-controlled Senate. At stake is the Constitutionality of the Senate to even proceed with a vote, given that we are in an election year and Obama by all accounts is on his way out.
Enter the newly-unveiled @SCOTUSnom Twitter feed, a social media engagement platform powered by the White House to present sharable facts and information on the nomination process. After launching promptly at 7:00 a.m. ET Wednesday, the feed has already gained nearly 30,000 followers and posted nearly 100 Tweets in a single day.
Many of the Tweets are aimed are not only familiarizing the general public with the experience and legitimacy of Merrick Garland, but also presents a calendar of updates as the nomination process progresses. Here are a few examples of the Tweets that the @SCOTUSnom account has already sent:
A little #WednesdayWisdom from @POTUS's #SCOTUSnominee. https://t.co/OI0bmv6H5M pic.twitter.com/FfPlcqu2Dv

— SCOTUS Nomination (@SCOTUSnom) March 16, 2016
It's your turn, Senate. #DoYourJob pic.twitter.com/UZUMyy2E5V

— SCOTUS Nomination (@SCOTUSnom) March 16, 2016
"People respect Merrick's deep and abiding passion for protecting our most basic Constitutional rights." —@POTUS #SCOTUSnominee

— SCOTUS Nomination (@SCOTUSnom) March 16, 2016
The move takes advantage of the wild social media success of President Obama, whose popularity among millennials and tech-insiders has been long-powered by a savvy use of the newest modes of web-based connection. The President's two Twitter accounts — @BarackObama and @POTUS — combine for a whopping 78 million followers.
In addition to @SCOTUSnom, an outsider group aligned with the Obama administration's mission known as the Constitutional Responsibility Project has launched the #WeNeedNine campaign, an online effort to push social awareness that the highest court in the land needs nine definitive Justices to effectively rule. The site — www.weneednine.org — features a counter of the largest number of days that a Senate has ever taken to vote on a nominee (125), as well as quickly sharable facts about the overall process. Below is a screengrab of the #WeNeedNine facts page: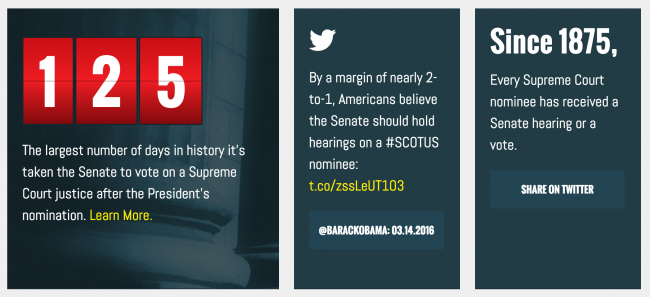 According to the website, the Constitutional Responsibility Project was, "founded to coordinate the hundreds of allies and empower the millions of Americans in states across the country who believe Senate Republicans should do their jobs and fulfill their constitutional duty by giving Chief Judge Garland a fair hearing and up or down vote."
All this has been coupled with a perfectly-timed and very well produced original video featuring Merrick Garland and his background. The piece features archival footage from Garland's long history spliced with interviews about his family, upbringing, and commitment to public service:
Meet Chief Judge Merrick Garland, the President's nominee to the Supreme Court. #SCOTUSnominee https://t.co/ACujysyyDJ

— SCOTUS Nomination (@SCOTUSnom) March 16, 2016
All of these may seem like silly efforts centered on getting a few retweets and giving busy-work to some social media intern in a White House office. But the Obama administration has capitalized on viral marketing of its policies and messages with astounding acuity. The White House is on Snapchat, they load videos of the President rapping with Lin-Manuel Miranda using its Facebook autoplay function, hosts engaging live streams, and have their finger on the pulse of every up-and-coming trend of digital engagement. In 2016, simply put: this is how you wield influence. The connectivity of Americans has never been stronger, with thoughts shared at a moment's notice; it seems unlikely that any anti-Garland effort helmed by Senate Republicans have even considered using social media as a means of shaping social impressions on the issue.
In these ways, the Obama White House has already gotten off to very a strong, engaging start on winning the war of public perception in the key nomination fight over Merrick Garland's appointment.
[images via Wikipedia Commons]
This is an opinion piece. The views expressed in this article are those of just the author.