White House's Timeline on Comey Says Trump Was 'Strongly Inclined to Remove Him' After Watching Testimony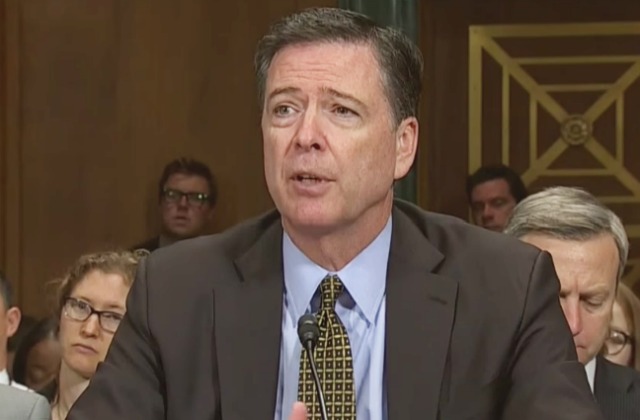 The White House has released a timeline of events to reporters this evening on what led to President Donald Trump's decision to fire FBI Director James Comey.
Now, one of the administration talking points has been that Trump has been concerned about Comey since he took office (despite his praise for Comey last October), and the first bullet point on the list says the same:
White House is now providing this accounting of the Comey firing timeline. Different from what officials provided on background last night pic.twitter.com/ZnaZ3wfY29

— Jeremy Diamond (@JDiamond1) May 10, 2017
WH offering this timeline on events leading to Pres Trump's firing yesterday of FBI Dir Comey: pic.twitter.com/6AHzEKIaoy

— Mark Knoller (@markknoller) May 10, 2017
But you'll notice the second bullet point on that list says, "After watching Director Comey's testimony last Wednesday, the President was strongly inclined to remove him."
That was the testimony where Comey spoke a lot about the Hillary Clinton email investigation and the Russia investigation. The day before that the president tweeted this out:
FBI Director Comey was the best thing that ever happened to Hillary Clinton in that he gave her a free pass for many bad deeds! The phony…

— Donald J. Trump (@realDonaldTrump) May 3, 2017
…Trump/Russia story was an excuse used by the Democrats as justification for losing the election. Perhaps Trump just ran a great campaign?

— Donald J. Trump (@realDonaldTrump) May 3, 2017
And separately, there is a Reuters report tonight saying Trump's anger at Comey bubbled up even more because he wouldn't preview that testimony for top White House aides:
The anger behind Donald Trump's firing of FBI Director James Comey on Tuesday had been building for months, but a turning point came when Comey refused to preview for top Trump aides his planned testimony to a Senate panel, White House officials said.

Trump, Attorney General Jeff Sessions and deputy Attorney General Rod Rosenstein had wanted a heads-up from Comey about what he would say at a May 3 hearing about his handling of an investigation into former Democratic presidential candidate Hillary Clinton's use of a private email server.

When Comey refused, Trump and his aides considered that an act of insubordination and it was one of the catalysts to Trump's decision this week to fire the FBI director, the officials said.
A New York Times report yesterday on Comey's firing included the following:
Mr. Trump "saw an opening" to fire Mr. Comey after the testimony, a White House official said. Reince Priebus, the White House chief of staff, argued against it, delaying — but not overruling — the decision. Mr. Trump received the documents from the Justice Department on Tuesday. Aides also compiled a stack of news clips criticizing Mr. Comey.
[image via screengrab]
— —
Follow Josh Feldman on Twitter: @feldmaniac
Have a tip we should know? [email protected]
Josh Feldman - Senior Editor