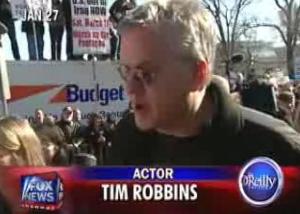 Actor Tim Robbins, who has recently been in the news because of his split with longtime wife Susan Sarandon, is known generally as an activist for liberal causes.
So why exactly did he give $5,000 to 10 Republican Senate and House nominees in 2006, including Rep. Michele Bachmann? Let's take a look.
Lloyd Grove breaks the story in The Daily Beast:
Loyal Dems would undoubtedly be gobsmacked to learn that, if Federal Election Commission records are to be believed, Robbins has not only donated regularly to Democratic candidates over the past 18 years, he also has written checks to conservative Republicans. In the 2006 election cycle, according to public records, the actor gave $5,000 to 10 Republican candidates for the House and Senate—including, most shocking of all, Minnesota's resident wingnut, Rep. Michele Bachmann.
Robbins hasn't commented yet on the story, but…Bachmann? This and this Michele Bachmann?
Robbins famously voted for Ralph Nader in 2000 over Al Gore and George W. Bush. But in 2007 he was on the campaign trail stumping for John Edwards. And:
Despite his personal attempt to boost Edwards' campaign, Robbins said he would ultimately support Sen. Hillary Clinton or Sen. Barack Obama — the frontrunners according to polls in Iowa — if they become the nominee.
Robbins (and Sarandon) were part of an O'Reilly Factor ambush interview in 2007 at an anti-war rally (video below) – one that featured several celebrities and drew the ire of many prominent conservatives. He also recently spoke out in favor of the Fairness Doctrine.
But – Michele Bachmann. Really. Maybe it was a different Michele Bachmann? We'll update as we hear.
Factor Video:


—–
» Follow Steve Krakauer on Twitter
Have a tip we should know? tips@mediaite.com