Why Is This Maryland Republican Really Trying to Block D.C.'s Pot Legalization?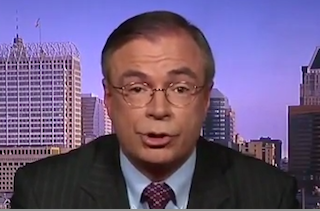 Buried deep with the "CROmnibus" spending bill approved by the House last night is an amendment that would essentially undo Initiative 71, the marijuana decriminalization measure approved with an overwhelming 70% support from Washington D.C. residents during last month's midterm election. The amendment is the brainchild of Rep. Andy Harris, a Republican from Maryland who does not represent any of the people the new law will affect.
"I am glad Congress is going to, in a bipartisan way, uphold federal law to protect our youth by preventing legalization in Washington, D.C.," Harris said in a statement Wednesday. "Numerous studies show the negative impact regular recreational marijuana use has on the developing brain and on future economic opportunities for those who use this illegal drug."
But D.C. is fighting back. The district's delegate Eleanor Holmes Norton has questioned the ability of Harris' rider to affect the marijuana measure, saying in a statement that "based on a plain reading of the bill and principles of statutory interpretation, the District may be able to carry out its marijuana legalization initiative."
And the district also has the support of the White House, with Press Secretary Josh Earnest telling reporters Friday, "We do not believe that Congress should spend a lot of time interfering with the ability of the citizens of the District of Columbia to make decisions related to how they should govern their community."
Meanwhile, D.C. activists have launched a "Blacklist Andy Harris" campaign, complete with its own Tumblr blog, to demonstrate their opposition to the congressman's actions.
"It's totally disturbing; it's entirely undemocratic," Adam Eidinger, who was instrumental in collection signatures to help get the measure on the ballot, told the Washington Post. "I'm ready for some civil disobedience. If you're going to overturn an election, you might as well say something before it's done."
Confronted by reporters about whether his actions violate state's rights laws on Wednesday, Harris said, "D.C.'s not a state. I'm sorry, it's not a state!"
As for why Harris has made this fight against D.C. democracy his primary cause, the Attn. blog looked into the congressman's biggest donors and found that a Maryland-based company called Emergent BioSolutions near the top of the list.
Attn.'s Matthew Seagel reports:
One of Emergent's products is epsil, "a fast-acting treatment that reduces the pain associated with oral mucositis," which is a common complication of chemotherapy from cancer treatment. According to its website, "by reducing the pain associated with OM, episil® may help you maintain proper nutrition and a level of comfort—and may allow you to continue your cancer therapy uninterrupted."

So what does any of this mean?

Marijuana (cannabis) is a huge combatant against many of the deleterious effects of cancer and chemotherapy, and thus a hugely disruptive threat to Emergent's business model.
So, is Harris really worried about the "developing brains" of D.C. residents? Or is there something else behind this brazen push to interfere with the will of the people who are not even his constituents?
[Photo via screengrab]
— —
>> Follow Matt Wilstein (@TheMattWilstein) on Twitter
Have a tip we should know? tips@mediaite.com