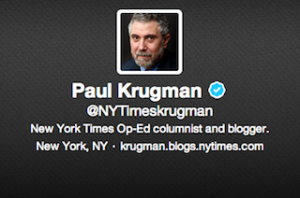 New York Times columnist Paul Krugman has over 1 million followers on Twitter, but he claims he's never tweeted. Sure, his account has nearly 5,000 tweets dating back to 2008, but as he explained in a blog post today, "That's a robot–it's just tweeting the titles of blog posts."
Beyond thinking that no one wants "140-character reflections on what I just ate"–a typical reason cited by those who have never actually used Twitter–there's a more insidious reason for Krugman's reluctance.
He writes:
"I have to admit that I've also been aware for some time how many people end up destroying themselves by tweeting something really offensive.

Why do people do this? Well, it turns out that many prominent people have inner demons of one kind or another — often homophobia, but also racism, sexism, or just some kind of generalized contempt for large numbers of other people. And social media make it all too easy for those demons to slip out in front of a large audience.

I don't think I have any demons like that, but who knows? And if I do make uncomfortable discoveries about myself, I'd like to do it in private, thank you."
The most obvious person to whom Krugman may be referring is actor and soon-to-be MSNBC host Alec Baldwin, whose Twitter rants have become a thing of legend, causing him to periodically swear-off the service before cautiously reentering the waters. In contrast, a comedian like Bill Maher appears to say whatever potentially offensive thing comes into his head on Twitter, without ever feeling to need to apologize or backtrack to save face.
Like Baldwin and Maher, Krugman is undoubtedly a controversial figure who draws a good deal of ire from the right, but his chosen field of economics doesn't exactly lend itself to the same kind of controversy. He says he doesn't think he has the "demons" that have "destroyed" so many others on Twitter, but the fact that he thinks about it at all does hint at something darker underneath.
[image via Twitter]
— —
>> Follow Matt Wilstein (@TheMattWilstein) on Twitter
Have a tip we should know? tips@mediaite.com