Will New York Observer's Embrace of Trump Turn Off Female Focused National Advertisers?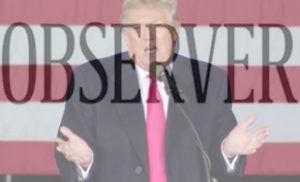 NBC's Billy Bush found out this past weekend, that being seen as enabling or supporting the worst of Donald Trump can have consequences.
In fact, one of the most striking aspects of election 2016 has been the media's nearly unified response. Not the debate over coverage, or how much of it, which has been fierce, but the editorial pages — where media operations tell you what they really believe. Reliably Republican leaning media entities, have for the first time ever endorsed a Democrat, and not just any Democrat but Hillary Clinton. Others who never endorse any candidates are warning of the perils of electing Donald Trump. Now with the additional allegation against him, many prominent Republican women in media are coming out against Trump as well.
In fact, there seems to be only one, literally a single non-overtly political media operation, that is still behind Donald Trump: The New York Observer (if you know of another, let me know).
The reason for that is self-evident. Its owner and publisher Jared Kushner is not just a supporter of Donald Trump, he is also one of Trump's top advisers and a Trump relative. Just this week in the wake of the now infamous audio tape leak, The Washington Post reported that the team Trump effort to put Bill Clinton's accusers in the debate hall last night was, in large part, the brainchild of Kushner himself.
Kushner and the Observer, claim that Kushner does not get involved in coverage but apparently his own reporters don't believe it. The endorsement and more importantly, the larger coverage of Trump has led to an exodus of reporters from the formerly storied publication.
But, what about the all important advertisers? The Observer is supported by national brands which target women ranging from Neiman Marcus to Net-A-Porter and Nestle. Other larger companies like Microsoft, Verizon and Wells Fargo Bank also regularly partner with them.
"I think advertisers should definitely take these factors into consideration, especially those advertisers who have built their brands on platforms of social good.  I'm frankly surprised by those who have built themselves up on such platforms yet haven't gone the extra step to speak out in such against such glaring misogyny and sexism," Ann-Christine Diaz, creativity director at AdAge told Mediaite.
Sure one can argue that advertising with a media entity doesn't mean you necessarily support everything they do but, according to Diaz, this could be an ideal opportunity for advertisers to take a stand.
"There are big brands who have gained plenty of support and love from consumers because they have taken a stand socially — such advertisers could strengthen their brand messages further and  prove their own authenticity by continuing to doing so at such a crucial moment in the country's history," she added.
Some brands may believe an association with Trump is a good thing. In this highly polarized world, however, companies will often be judged by the people with whom they will or will not do business and supporting Donald Trump, can, fairly or unfairly depending on your point of view, lead to consequences, particularly if women are your target audience.
This is an opinion piece. The views expressed in this article are those of just the author.