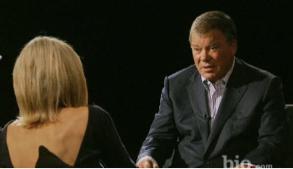 William Shatner (yes, that William Shatner) interviews one of the D.C. snipers Lee Boyd Malvo, the teacher in the student relationship that lasted Mary Kay Letourneau and more for his new Biography Channel show, Aftermath.
The next logical question – why? – is interesting: Shatner will look at the "aftermath" of media stars, past their moment in the spotlight.
Other shows will focus on rescued prisoner of war Jessica Lynch and The Unibomber. But the interview with Malvo is probably the most shocking (it aired in a separate A&E special last night). The New York Times' Brian Stelter got a preview of the 20-minute interview, and there's a lot there:
There were supposed to be three to four snipers with silenced weapons," he told William Shatner in a phone interview from prison…

Yes, it was Mr. Shatner, the "Star Trek" actor and Priceline negotiator, who interviewed Mr. Malvo and found out that the snipers claim to have committed dozens of other shootings, some with co-conspirators.
Whoa – Shatner's interview show on Biography may provide breaking news for the cablers. Aftermath, premiering Monday night at 10pmET, is described on the site as taking "an in-depth look at what happens when people are tragically or infamously transformed from unknown citizens into household names overnight, taking viewers back to the dramatic events that dominated the American news cycle."
Shatner also hosts Raw Nerve on Biography.
With the ever-increasing speed of the 24-hour news cycle, there will certainly be no shortage of news aftermath for Shatner in season two.
—–
» Follow Steve Krakauer on Twitter
Have a tip we should know? tips@mediaite.com