Witnesses Corroborate: George Zimmerman 'Bragged' About Trayvon Killing, Then Got Punched (UPDATED)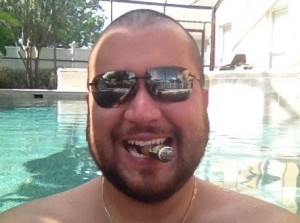 According to witnesses in Sanford, Florida who recounted an incident from this past weekend, George Zimmerman allegedly bragged about the 2012 killing of Trayvon Martin, then got punched by a bystander.
The incident occurred at a restaurant, when Zimmerman was allegedly recognized and was overheard discussing the shooting death of the 17-year-old Martin at a table. According to WFTV-9 Orlando, "a large man approached and asked, 'You're bragging about that?' before punching Zimmerman in the face."
Zimmerman called 911 as well:
911 dispatcher: "What started the argument?"

Zimmerman: "He recognized me. He told me he was going to kill me he told me he'd (expletive) shoot me and he punched me in the face."
…
Zimmerman: "This man just punched me in the face."

Dispatcher: "Is he still there?"

Zimmerman: "Yup. He said he's going to kill me. You need to send like three or four cops."
Witnesses inside Gators Riverside restaurant confirm that Zimmerman "was bragging" about the 2012 shooting. he allegedly said to someone, "I love your tattoos. My name is George Zimmerman, you know, that guy who killed Trayvon Martin?" He allegedly showed an identification card of some kind as well.
The identity of the attacker accused of punching Zimmerman has not yet been released.
The 911 call is below:

UPDATE — 7:07 p.m. ET: George Zimmerman has spoken to the Orlando Sentinel, and is providing a different account of the details.
According to Zimmerman, two men walked up to him at the Gators Restaurant where he was discussing the 2012 incident. The first man, "recognized [him and] said he was a big fan." Zimmerman added, "[He] even asked to see my ID 'cause he couldn't believe it was me."
At that point the second man asked, "You're bragging about that?" then punched Zimmerman in the face. He immediately called 911, and later told the Sentinel that he believed the man, "was apparently intoxicated."
Then, the Sentinel reported on the side of the story of Ed Winters, the owner of the Gators Restaurant, who paints an even different picture than that of Zimmerman's. He claims Zimmerman got into it with a shirtless man — provoking him about a tattoo Zimmerman didn't like — and when that man's friend confronted Zimmerman about his behavior, "[t]he two argued, but no punches were thrown."
Zimmerman allegedly then called 911 regardless, "prompting a full-fledged response from the police and fire department." Winters has said Zimmerman was firmly asked not to return to Gators. Winters said, "Everywhere this guy goes he causes controversy. You'd think he'd keep a low profile."
Have a tip we should know? tips@mediaite.com