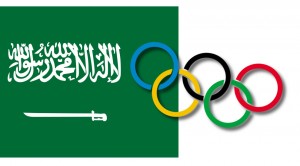 Undercovered is our daily feature bringing attention to women's issues worldwide, which we feel deserve a larger audience.
—
Four women will represent Saudi Arabia at the Rio Olympics. Despite the fact that it marks an increase since 2012 (when the nation sent two female athletes to London), there are still societal barriers preventing women from participating in sports at home.
According to a Human Rights Watch report published Thursday:
"Saudi women are making tremendous strides in the world of sports – climbing the tallest mountains and swimming the lengths of rivers," said Minky Worden, director of global initiatives. "They are showing their determination, talent, effort, and heart despite daunting legal, cultural, and religious hurdles. As the Rio Olympics open, Saudi Arabia needs to change the game by addressing the profound discrimination that holds back women's and girls' participation in sport in the kingdom."

[…] The Human Rights Watch 2012 report, Steps of the Devil, examined in depth what was then the country's effective ban on participation by Saudi women and girls in sports and physical education and its negative effects, including on health.

Saudi Arabia discriminates against women and girls by denying them the same opportunities to exercise and play sports as men and boys. As of July 2016, women were not allowed to attend or participate in national tournaments or state-organized sports leagues. But, in a positive move, on August 1, the General Authority for Sports, which functions like a sports ministry, announced a new female department and appointed Princess Reema Bint Bandar Al Saud as its head.
You can read the complete report at Human Rights Watch.
—
Undercovered is a daily feature from Mediaite, bringing attention to stories about women's rights that warrant more attention. Go through the Undercovered archives here. If you have an idea or a tip, please email us at Undercovered@mediaite.com
[images via Wikicommons]
Have a tip we should know? tips@mediaite.com