Woman Accuses Mitt Romney Of Not Letting Her Harass Him On Delta Airlines Flight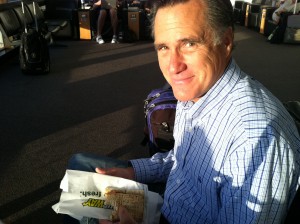 In what reads almost like an Onion parody of the Herman Cain alleged sexual harassment story, The New York Times' Caucus blog reported, Sunday night, that a woman has come forward to accuse Cain rival Mitt Romney of being polite but disinterested in her health care reform suggestions during a recent Delta Airlines flight. Following a week in which disastrous PR only made his rival stronger, Mitt Romney is getting bad press for minding his own business on an airplane. I now officially feel sorry for Mitt Romney.
According to The Times' Emmarie Huetteman, Romney (flying coach, of course) was polite and gracious to passenger Carolyn McClanahan, and even posed for a picture with her, before things got ugly:
According to Ms. McClanahan, about an hour into the flight — which Mr. Romney mostly spent reading USA Today and using an iPad while wearing headphones — she told him her idea for improving the American health care system: slashing overhead costs by switching to an electronic billing system.

"He looked at me blankly and said, 'I understand,' then put his iPad headphones in and kept reading," she said.
That wasn't the end of Romney's reign of meh-ror, though, as McClanahan said the former Massachusetts Gov. responded to another passenger's request for a Boston restaurant recommendation by saying "I can't give you any. You'll have to ask someone else."
This was obviously a trick question, though, as Romney would've gotten grief whether he sent that passenger to the nearest Subway, or for a reservation at Chez Monopoly Guy.
Now, I kid Romney, but I've got to give him props for restraint here. If someone interrupted me while I was rereading the latest Twilight book on my iPad, I'd have been like, "Really? You thought up an electronic billing system? Let me show you my idea for a unicycle, but with two wheels! I call it the 'Quarter-OctoCycle!'"
Based on this experience, McClanahan ruefully (see what I did there?) told The Times, ""I feel he's out of touch or doesn't want to be in touch or that he's afraid to be in touch. He's just like people describe him: just very wooden."
As Romney himself has said, there are many reasons not to vote for him, but his politely wanting to be left the eff alone on an airline flight should not be one of them. This story just underscores the self-fulfilling nature of the political media's "who do you want to have a beer with" narrative on picking presidents. I think most people, upon encountering their president at the local watering hole, would ask, "Why are you having a beer with me? Don't you have shit to do?"
Granted, there are lots of people who do cast their votes on the basis of irrelevant things like "relatability," and it is weirdly fun to watch candidates chase that idea, but shouldn't the media push back against that, rather than simply reflect it?
When you contrast this story with the one that kicked off last week, it really becomes a sad joke. Herman Cain started the week evading questions about alleged sexual harassment, then capped off a raft of contradictory TV appearances on the subject by being wildly, raucously cheered by the Republican base, and maintained his already inexplicable grip on the GOP frontrunner's spot.
Romney, on the other hand, is clearly the most qualified candidate in the field, but no matter what he does, the Republican townspeople always seem to want a different sheriff. The whole thing is beginning to remind me of the story of poor Frank Grimes, from what was probably The Simpsons' most darkly comic episode ever.
Grimes was a hard-working, competent hard luck case who found himself in a rivalry with Homer Simpson, and no matter how badly Homer screwed up, or how hard-working and competent Grimes was, people still loved Homer, and hated Grimes. He ends up dead, his tombstone engraved with the Homer-bestowed nickname that he despised, "Grimey."
The episode serves as an audacious critique of the utter failure of substance in our culture, as it invites viewers to love Homer, and loathe Grimey, in complete defiance of the merits. That same dynamic has been playing out in our politics for a long time, strongly abetted by the news media.
Have a tip we should know? tips@mediaite.com