Gingrich: Obama Is As Accurate As Bernie Madoff In What He Says To American People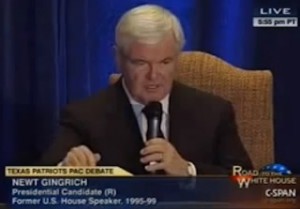 In the merry-go-round of GOP presidential politics, is it about to be Newt Gingrich's time to take a turn as a frontrunner? Recent polls suggest that he's on the way up, currently in a respectable third place behind an embattled Herman Cain and a tepidly-supported Mitt Romney. Perhaps more importantly, Gingrich is escalating his use of over-the-top rhetoric that will get him more attention, as he did this weekend when he likened President Obama to convicted Ponzi schemer Bernie Madoff.
The comment came during a Lincoln-Douglas-style debate that Gingrich shared with Herman Cain, which proved to be more of a media circus than meaningful debate due to Cain's recent sexual harassment allegations. In fact, the most noteworthy item that came from the debate was Cain's blasting of the press for asking questions about the scandal surrounding him.
Gingrich drew a predictably unfavorable comparison between GOP saint Ronald Reagan and the current sitting president, though the metaphor was more focused on their respective rhetoric:
We have today a President and….compare him to Ronald Reagan who told the truth — great book called "The Education of Ronald Reagan" on lessons he learned at General Electric — compare Reagan's ability to talk directly to the American people, make sense and have the American people move the Congress with the current president. This president is about as candid and accurate as Bernie Madoff in what he tells the American people.
Now that's hyperbole!
It's easy to dismiss this sort of over-the-top political rhetoric as poetic license, but comparing President Obama with a convicted felon who bilked millions of individual investors with lies and deceit will likely only resonate with voters who have already long decided that Obama is the Worst President Ever™ no matter what evidence is presented to them, one way or the other.
Watch the clip below, courtesy of C-SPAN (H/T Business Insider):
Have a tip we should know? tips@mediaite.com
Colby Hall - Founding Editor